One thousand colorful wheels will decorate Đào Duy Từ Street of Hà Nội's Old Quarter on November 23, part of a festival celebrating Vietnamese heritage that begins today.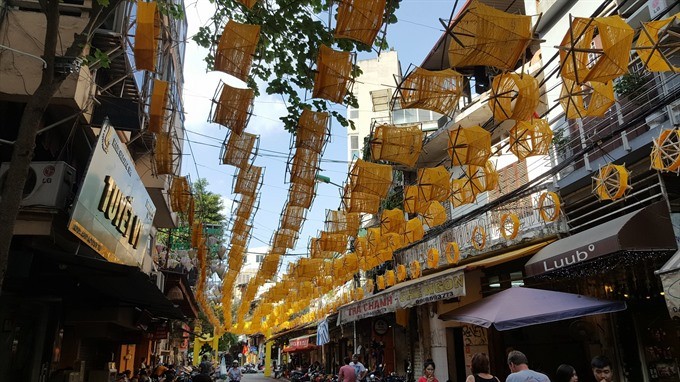 One thousand spinning wheels will decorate Đào Duy Từ Street in Hà Nội's Old Quarter during a festival celebrating Vietnamese Heritage Day (November 23). — VNS Photo Minh Thu
The decorations honour traditional handicraft, said painter Nguyễn Mạnh Đức, one of the organisers.
The festival starts with an event called Nét Xưa (Old Feature) at the Old Quarter Culture Exchange Centre, 50 Đào Duy Từ Street.
The programme includes a fashion show of áo dài (traditional long robe) with collections by designers Lan Anh, Minh Minh, La Hằng and Duyên Hương. Painter Kiều Quốc Khánh will paint natural landscapes in water colours on black and white outfits designed by Lan Anh.
Embroidery artisan Vũ Giỏi will introduce his collection of 15 court gowns copied from royal costumes of the Nguyễn Dynasty (1802-1945). Giỏi will display his collection at the centre until November 27.
After the show, audiences will enjoy traditional music like chèo (operetta), tuồng (classical drama) and quan họ (love duets).
Visitors will also be introduced to Việt Nam's tea culture at Heritage House (87 Mã Mây Street) and traditional embroidery arts at Kim Ngân Temple (42-44 Hàng Bạc Street) from now until November 20. Notably, an exhibition featuring clothes for the hầu đồng ritual will also be displayed at the Old Quarter Culture Exchange Centre until November 27.
Hầu đồng is used to connect people to the spirit of Mother Goddess and other deities to whom they communicate their concerns and prayers for good health and fortune. There are many hầu đồng pieces dedicated to Mother Goddess, Lady Bơ who helped King Lê Lợi (1385-1433) and his army fight against the Chinese Ming invaders, and Lord Mười, a mandarin of the Lê Dynasty (1428–1788).
Researcher Ngô Đức Thịnh, a leading expert in the Mother Goddess practice in Việt Nam, will host a talk show and display on November 26.