Along the coastal street from Danang City to Hoi An Ancient Town, a UNESCO World Heritage Center, luxury resorts stand side by side while others are under construction. Suddenly, a big sign stands on the right showing a foreigner playing guitar with a Vietnamese band at café Guitar Hawaii.
The café is located near An Hoi Bridge, which is a few steps from the Japanese Bridge –the symbol of the ancient town. Guitar Hawaii opens every night bringing to customers a warm and comforting atmosphere.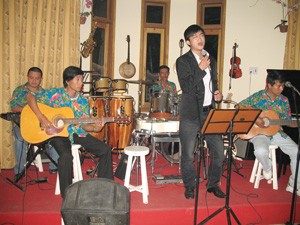 A singer performs at Guitar Hawaii Café (Photo: Tuong Thuy)
Nguyen Huu Tam, 34, the Guitar Hawaii owner, studied music at the Hue University of Arts in the ancient capital of Hue after high school in his home town of Hoi An. In 1997, he became a well-known guitarist among higher education students across the country since his student band Co La (Strange Grass) won the consolidation prize in the 1997 National Unplugged Music Contest. Co La was also voted as the most impressive band in that student competition.
Now, Guitar Hawaii offers friendly space for guests to enjoy music. International visitors have known this café and some have come to sing, accompanied by owner Tam and the bandsmen.
Tam says he opened the café to firstly satisfy his own passion for music.
Not limited to just a few kinds of music, the band and singers perform different types. In addition to moving love songs by late renowned Trinh Cong Son are gentle and swanky works by Cung Tien, beautiful songs by Pham Duy. The audience can also hear Blue, Rock 'n' Roll, Flamenco and internationally popular songs.
The scene that a foreign tourist plays guitar at this café has become familiar as this happens frequently. The quiet ancient town welcomes many international tourists everyday, and this makes Hoi An's Tam able to believe that his choice of running this business is a sound decision.
Tam says his passion for music inspired him to make a Hawaii guitar, and he plays it to bring something new and surprising to the audience.

Hoi An Ancient Town was named a World Heritage Site in 1999 by UNESCO. It is an exceptionally well-preserved example of a South-East Asian trading port dating from the 15th to the 19th century. Its buildings and its street plan reflect the influences, both indigenous and foreign, that have combined to produce this unique heritage site. Hoi An is 30 kilometers south of Danang City.