Phan Van Cua has been recognized as a talented automation engineer of the Thien Huong Food Joint Stock Company. For the past 30 years, Cua and his colleagues' initiatives have greatly benefited the company. His career path, however, was a rough one, and he had to struggle hard to achieve so much.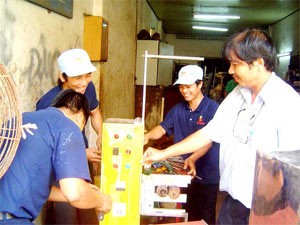 Phan Van Cua (R) checks the operation of a seasoning powder packing machine

Leaving school as a teenager to toil away to earn his daily bread. In 1979, Cua managed to land a job as a worker in charge of running the electric generators of Thien Huong Food. To earn a brighter future, he went to evening classes after working long hours to complete his junior high school program.

In 1982, he passed the entrance examination to the Automatic Control System Department of the Ho Chi Minh City University of Technology. Unlike normal students, Cua had to spend six instead of five years to complete the course as he had to work, study and take care of his two small children at the same time.

After obtaining his Bachelor's of Science degree, Cua was appointed to the Technical Department and began applying the knowledge he had acquired at school into a real work setting. Since then, Cua and his colleagues have begun a number of initiatives that brought strong profits to the company. Among them was the construction of electricity and wastewater treatment systems, installing a gas furnace, and building a seasoning powder packing machine.

In 2000, Thien Huong Co. imported a Japanese instant noodles production line with a capacity of 150,000 packets per hour. Cua took the initiative to ask the company's board to allow him and his colleagues to join the Japanese installation team. By doing so, he not only saved VND500 million in labor costs but learned valuable operation principles from Japanese experts.

"After being put into operation, the production line worked quite well. The company, however, only had to spend VND90 million on Japanese experts and materials," Cua said. "As members of the installation team, we learned in detail every part of the line. Whenever it breaks down, we can repair it by ourselves without having to bring in Japanese experts."

Cua, however, thinks that his most significant initiative was the subject of his graduation thesis in 1992, which was about a digital automatic control system. Cua and his colleagues then worked on an idea based on the thesis to develop a real system to replace the company's existing manual one. Thanks to its precision and efficiency, since 2003, the digital system has helped the company save 856,000KW of electricity.

Commenting on Cua's contributions to the development of the company, Mr. Ngo Minh Hung, party committee secretary of the company, said, "Pham Van Cua's initiatives have benefited the company a great deal. Some can't be measured by money. He sets a shining example to us all for what a person with a great passion for work and for further studies can achieve.

Indeed, Cua is the kind of person who is eager to learn more. Having taken part in a number of workshops organized in and outside the company and a member of many research works, Cua is quite aware of the importance of study. At present, he is attending a post-graduate course in automatic control systems to enhance his knowledge so that he can make further contributions to the company.