Not many people know that Nguyen Thanh Son, or Ba Son, is a billionaire and became one from planting apricot blossom in Thu Duc District, Ho Chi Minh City, and only a few people know he came from a very poor background.
Love of Apricot Blossom
Ba Son cannot forget the image of his poor homeland of Ben Tre Province. He was orphaned when he was young and had to live with his maternal grandmother.
He had to work hard to earn a living and take care of his younger brothers.
He went to Thu Duc, HCMC with his grandmother to work. He went to school in the morning and sold flowers with his grandmother in An Dong Market from the afternoon until the evening.
Going to Ho Chi Minh City from Ben Tre, Ba Son did not own land to plant flowers so he had to borrow money from his relatives in order to rent land.
After many failures in planting flowers, he was still poor and fell into debt.
He decided to study ways to plant flowers and he was patient enough to graft apricot trees until he achieved success. He produced apricot trees that nobody else had.
When he achieved success, he started expanding his business and saved money to buy land.
Today, he has around 60,000 apricot trees and created jobs for 30 workers, each with an income of VND2 million per month.
He had escaped his impoverished background and became a successful farmer.
Not forgetting his roots
Ba Son said most planters have their own secrets to planting flowers and trees but all have a common love of their job, are all hard working, patient and take care of their apricot trees. It takes time to create quality trees, Ba Son added.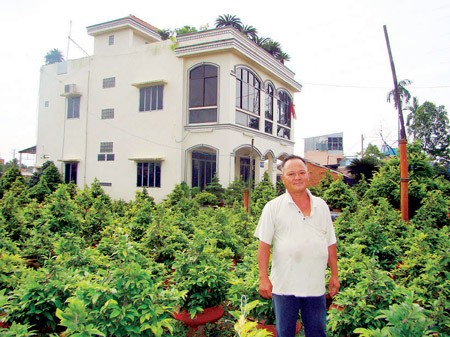 Nguyen Thanh Son, or Ba Son in his garden with apricot trees. He became a billionaire after successfully planting and selling apricot trees. (Photo: SGGP)
The number of apricot trees increased to such a point that Ba Son borrowed money from the bank to buy land in Tan Uyen, Binh Duong Province.
With 50 hectares, Ba Son rents out apricot trees during the Tet holidays.
He said that he rents out two of the most beautiful apricot trees from his own garden, having charged VND45 million in last the New Year's festival.
There were many kinds and colors of apricot trees in Ba Son's garden, such as white apricot trees, pink apricot and yellow of apricot.
Currently, he runs the Ba Son Grafting Apricot Company. Although he has billions of dong, he still takes care of his flowers everyday from morning to evening.
He has three sons, one is an agricultural engineer, one is at junior college and the other is in tenth form.
He said that he had to work hard because of poverty, so he always reminds his sons to study more and study hard to get success.