Phi Thanh Van, a model, actress, and, soon, a singer, has everything an ordinary woman could desire. She gets plenty of invitations from European and US modeling companies and has appeared in Vogue magazine. But stardom did not come easily for Van who had to pay an emotional price.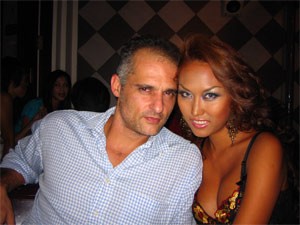 Van and her husband, Blanc

"My outside is not naturally beautiful, but my soul is"
Phi Thanh Van was born in Ha Noi but later moved to Ho Chi Minh City when her family moved its business there. When she was young, with dreams of becoming famous, Van tried her hand at several things including joining a theatre group in District 5 and the Catwalk Club at the HCMC Labor Culture Palace.
 
In 2001, at 19, she decided to undergo a series of cosmetic surgeries that lasted five years. By then, she had achieved fame as Viet Nam's "super model" and joined the P.L Model Agent Company.
 
The step up to the silver screen was not long in coming with her first movie, Chuong Reo La Ban (When The Phone Rings, Shoot), being released in 2007. Later that year she acted in Ugly Betty (Vietnamese Version).
 
Chat with Beauty
* What is the importance of beauty?
- I consider "beauty" to mean not only an attractive exterior but also a beautiful soul.
 
* Every girl dreams of becoming more beautiful but not all dare to have cosmetic surgery. So what was the most important factor in your decision to have surgery?
- A beautiful outside is not all that you need. But I worked in the entertainment industry and I used to encounter many obstacles and scornful remarks just because I was not lucky enough to be born beautiful.
 
It was that hurt which pushed me into desiring beauty even it was artificial. And I dared to go through with it. I feel no regret, not at all as you can see how successful I have become thanks to that decision.
 
* Did your social life improve after the surgery?
- Not really. After the surgery, there were a lot of horrible rumors about me. That was the toughest period for me to overcome and carry on with my work. But now, after two years of hard work and freedom from rumors, I finally feel the sun is out and shining.
 
* You are the hottest cover girl going around while many women admire you and wish to look like you. Will you recommend cosmetic surgery for them?
- Cosmetic surgery only helps you to form your body but is not really helpful after a while. Even I, after the surgery, have had to do a lot of exercises to keep my body in shape. I enjoy boxing and it's a good exercise.
 
* How do you spend quality time with your family amidst your heavy schedule? Can you balance both?
- Well, I feel great with my husband. I always have time for my small family in District 7. When I am off work, I prepare dinner for me and Blanc. I love family life. "Everyone should be back after work and relax together, enjoy life together, and, especially, never be far away [from each other]," is my motto in life.
 
I appreciate my husband so much since he understands and accepts my busy schedule. Sometimes, we argue with each other but soon he would mollify and indulge me. Sometimes he has surprises for me -- like a romantic vacation at a secret place.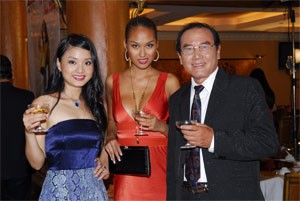 Van and her colleagues in the Ugly Betty

Me & "Ugly Betty"
Most of my time is spent with the cast of "Ugly Betty" since we spend 6-8 hours a day in the studio. We have pillows and blankets for shooting overnight if required. During the shooting, we face a lot of situations where we don't know whether to cry or laugh. For instance, I had a kissing scene with Binh Minh whom I've always considered an elder brother. It was really hard to do, especially since everyone around laughed while we did in the scene. 
 
The Future
Now I'm mostly focused on the second season of the series. I'm also trying my hand at singing. When I was young, I wished to be a celebrity, appear on TV, and have a lot of fans. And now, when I have achieved some success on the catwalk and in movies, I want to challenge myself at singing. Of course, I won't take it lightly. It's serious business.
 
While looking for songs that suit my voice, I took dancing lessons from Phi Long and dance group Sao Xanh. I'm preparing to take the stage as a complete artist.