Coffee, one of Việt Nam's worldwide renowned specialties, was introduced to the country in 1875 by the French during their colonialisation of Indochina. Coffee plantations were located in the Central Highlands and owned mostly by the French.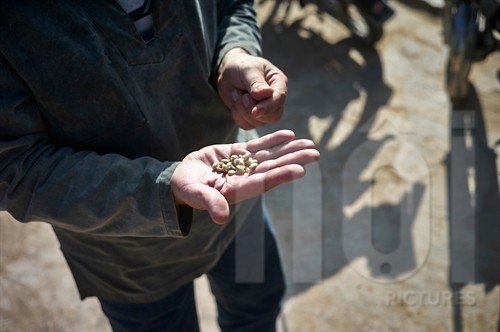 All natural: Pierre Morère shows the Arabica coffee beans before roasting, which is all done manually.— Photo noipictures.photoshelter.com
This was the same year the Morère family moved to the country and settled down near Đà Lạt. They grew coffee in the 1930s in the Central Highlands, a region renowned for yielding some of the best quality coffee in the world.
The August Revolution in 1945 put an end to the French colonial time in Indochina and Việt Nam became independent. France did not want to lose its colony and came back until the decisive battle of Điện Biên Phủ, where the much better-equipped French army lost to young Việt Minh troops in 1954.
Pierre Morère, a descendant of the original Morère settlers, has continued in his family's footsteps. His two-hectare coffee plantation in Đạ Sar Village, home to the Mong Cill ethnic people, is located about 20km from Đà Lạt. Morère has been planting Bourbon coffee, a premium type of Arabica coffee that is considered among the finest coffees in the world.
"Bourbon coffee trees grow very well in the natural conditions at an altitude of 1,500m in the highlands. The higher they are planted, together with suitable soil and sustainable agricultural approaches, the better their taste gets," Morère said. "It was my grandfather who introduced Bourbon coffee to the land in 1930, and then my mother was born there and took over his business."
Their vast coffee plantation prospered during that period but they had to leave Việt Nam at the end of the victorious anti-French resistance war.
Stories about his parents and the poetic land of beautiful flowers and lenient local people in the Central Highlands continued to intrigue Morère.
In 1999, he visited the birth place of his mother as a tourist. Eight years later, he decided to quit his job in a real estate company in France and return to Việt Nam to live and work on a feasibility study of the Bidoup-Núi Bà National Park.
In nearby Đạ Sar Village, Morère accidentally met his grandfather's former workers from the coffee plantation, who were very surprised on seeing him and welcomed him as if he was their relative.
They accompanied Morère to cross over many forests and high hills in search of the precious Bourbon coffee trees that had been abandoned for over half a century. At that time, he decided to re-construct his grandfather's coffee plantation with the best coffee seeds.
Thanks to his family's past reputation in the region, he was granted permission to purchase land in Đạ Sar Village by the local authority, an unusual right for a foreigner in Việt Nam, then started to plant Arabica and also managed to locate the Bourbon trees left by his grandparents.
One of his biggest initial challenges was his limited knowledge about planting coffee.
"The paradox of the coffee business is that most of the businessmen in this industry do not study coffee before they step in. I'm one of them. I didn't know anything about coffee before I discovered the Bourbon coffee in Việt Nam," Morère said.
"But the ethnic people have taught me how to recognise the Bourbon coffee, how to grow it, how to take care of and harvest it properly. They also taught me everything about the soul of the forest where the coffee is planted, as well as how to start a new life here."
Bourbon coffee trees are vulnerable to insects so it is one of the most difficult plants to grow, requiring strict natural conditions and specific agricultural techniques. With the aim of producing fresh coffee beans, Morère has managed to create fresh conditions for his trees by planting them in the forest, isolating them from other trees and applying natural anti-insect substances instead of chemicals.
"Coffee, especially the Bourbon, comes from the primary forest so it is best to leave it to grow in its primary condition without pesticides," he said.
The first coffee trees started to bear fruit after only three years, though in other countries is usually takes four years. According to Morère, this was largely due to the favourable conditions and the climate of the region.
Only the red coffee beans are harvested and are processed totally by hand with the assistance of the Cill ethnic people. Each part of the process is done with great care and responsibility.
"The original taste of Bourbon Morère Pointu is a mixture of aromas from the forest and chocolate, which will make the drinker remember the taste more than any other coffee," Morère said.
It took him several years to successfully process the coffee beans before creating his own brand name, Bourbon Morère Pointu, and introducing it to prestigious domestic and international customers, notably Annam Gourmet Market and renowned cook Pierre Gagnère.
He has even travelled to Japan to introduce his products to the Japan Coffee Association. The coffee has received much positive feedback on its flavour and quality.
Recently, Starbucks have chosen Arabica Đà Lạt and its premium version, Bourbon, for their coffee stores around the world.
His passion for coffee has made him feel such a close connection with the land where his grandparents used to live that he has no intention of leaving.
"I love coffee, the peaceful life by the forest and the lifestyle of the ethnic people here. I do not feel much difference between them and me. I live the way they live, and I'm very happy to be considered as their sibling and relative."
"I believe that the coffee planted in Đạ Sar Village will become higher and higher in quality and soon become an economic specialty of the region," he said.