A meeting on late President's 120th birthday, held in the HCMC's Opera House, honored individuals and organizations that have done an excellent job following the Ho Chi Minh example.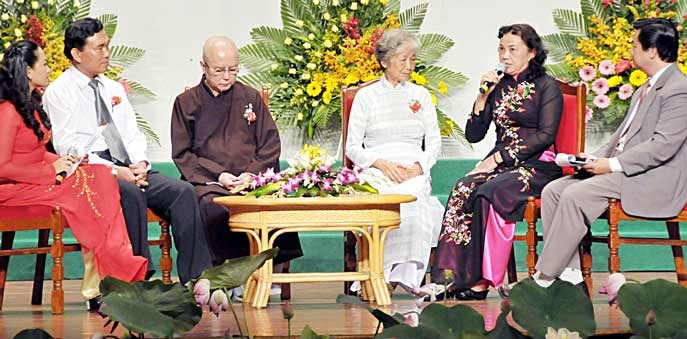 Participants confer at the meeting on late President's 120th birthday, held in the HCMC's Opera House on May 19.(Photo:SGGP)
All honorees share the following traits: they studied in school, gained experience from work and sought to love and serve people with the same heart Uncle Ho exhibited throughout his extraordinary life.
Du Hue Lien, a retiree of Ward 11, District 5, said she feels touched each time she hears stories about Ho Chi Minh.  Lien's area is 45 percent Chinese; most are poor. Therefore, Lien and other sponsors established a charity fund to help poor families.
With the fund, families were lent between VND6 million – 10 million (US $315 – $526) in order to establish businesses and continue their children's education, Lien said.
She also helped many people find employment by placing them in contact with hiring companies. Lien's proactive approach to helping her fellow citizens of Ward 11 has inspired them try to build a community based on peace and safety.
She said that Uncle Ho Thought teaches that anything that advantages the people is worth doing.
Attempting to adhere to Ho Chi Minh's thought, she has tried to do things that bring happiness to people. Doing good deeds have made her happy throughout her life, Lien added.
Nguyen Ngoc Hoa, Party chief of Saigon Co.op in Ho Chi Minh City, gave two norms he strives master as head of the supermarket chain: devoting his heart and soul to work and maintaining a commitment to the customers.
Saigon Co.op has become a well-recognized brand name that is familiar to customers.
Hoa said the company has grown because of the people working for it.  He communicates with staff members from the heart and believes in them from the moment of initial recruitment through their employment tenures.
He displays his own work ethic in order to inspire his workers to do better. In addition, Hoa explained that he organizes customer surveys twice per year to collect customers' opinion and ensure their future satisfaction.
The opinions of customers helps the company do better and develop, he said.
Party Chief and Chairman of the Nhuan Duc Commune People's Committee, Nguyen Van Ne, said that his role was to instruct people on how to implement Party and State law.
Chairman Duc follows to Ho Chi Minh's thought concerning the modification of work styles, prevention of officialdom that would distance him from people. He implores party members in his commune to follow Ho Chi Minh's example. Additionally, he said always leads first, by example.
Party chief of Tan Binh District, Nguyen Thi Kim Hoang, concentrates on modifying styles of work to resolve peoples' complaints.
Hoang asked cadres to attend meetings on time and to refrain from over-talking issues, insisting they focus on crucial matters with focus, in order to solve problems.  Yesterday, the convention recognized Hoang as an exemplary official, worthy of emulation.
Following Ho Chi Minh's thought she has helped people define their goals and actualize their potential. As a result, the number of young cadres and women has increased significantly.
The prominent aspects of Ho Chi Minh's example are strong ideals, an unyielding will, a brilliant mind, and special attention paid to the concerns of common people. He had a close link with the people and knew how to delegate power to talented individuals. All these characteristics helped Ho Chi Minh make the right decisions as he successfully carried out Vietnam's revolutionary cause despite the numerous hardships Vietnam faced in the revolutionary era.