In the wake of the global economic downturn and green movement, ebooks have emerged as the latest method of publishing a literary piece without the drawbacks of traditional publishing methods.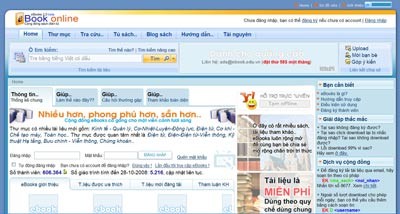 An online website to sell educational documents
Last year saw a dramatic spike in the popularity of ebooks, both locally and around the world. Amazon.com, an online shopping website offering a large selection of books and magazines, has reported the turnover of ebooks is now much higher than hardcopies and paperbacks.
Ebooks have the advantage of being cheap while offering readers quicker access to the latest titles. They are also environmentally friendly, saving huge amounts of trees and paper.
The largest Vietnamese online book distributor, Vinabook.com, plans to offer ebooks in the future, but says that currently, hard-copies are still more popular in the country.
Some local book aficionados, however, have established their own websites like thuvien-ebooks.com or thuquan.net, where members can read books for free.
Other domestic enterprises provide digital libraries, while the Lac Viet Company has implemented its own software to make it convenient for readers and online shoppers to access books.
Experts say Ebooks have yet to become as popular in Vietnam as they are globally for two main reasons: difficulty in utilizing ebook technology and copyright issues.
Most Vietnamese readers can't afford a professional wireless reading device like Kindle, which costs more than US$200, and thus resort to reading ebooks via their mobile phones.
Moreover, once initially purchased online, ebooks are relatively easy to copy. This has deterred local online book distributors from offering them as they don't stand to make large profits.