Although he is still single and has no experience in child-caring, Vu Te Dang, 29, does his PhD thesis on pediatrics. Recently, in the 11th international conference of the World Federation for Ultrasound in Medicine and Biology (WFUMB) held in South Korea, he won the third prize with a pediatric research.
Duty and Destiny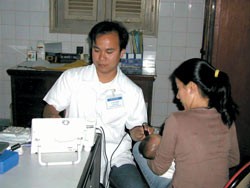 Doctor Vu Te Dang is checking an infant's health in the Tu Du Hospital.
On hearing his name as one of the prize winners, Vu Dang Te was completely amazed. He had thought he joined the conference only for learning, not expecting any prize.
Proud of being the only Vietnamese awarded the medical prestigious prize, he smiled, "I have never thought of doing research on pediatrics, let alone winning a prize".
In 6 years at the Medical Management Staff Training Center, he never failed any subject except twice in pediatric theories .When he examined children, they all cried out fearfully, which scared him even more. However, in his graduation thesis, he was required to do a research on pediatrics. Subsequently, he chose a pediatric topic for his M.A and PhD degrees.
The more he learns about children, the more he loves them. So, he decided to become a pediatrician and planned to "conquer" children by studying children's psychology from reading resources and consulting with experienced people.
A career related to children
His father, Vu Tu Than, an outstanding doctor, Head of Emergency Department of An Binh hospital , often expresses his obsessive concerns about the uneven development of the health sector among provinces and cities in Viet Nam, which has led to local stagnancy of patients. Consequently, it takes patients plenty of time to be taken to larger health centers and seizes doctors of any chance of saving the patients.
Agonized by his father's concerns, those of a doctor incessantly struggling for the lives of patients, Vu Dang Te, instead of pursuing technology as his initial desire, switched to medicine. After graduating from university, Te won a scholarship to study in France for a Master Degree.
He encountered a lot of difficulties and pressure in the first year studying with foreign friends. However, he tried his best to study day and night, not only to get high marks, but also to prove that Vietnamese were no way inferior to any others.
After getting his Master degree, he won the doctorate scholarship at the Research Institute of Francois Rabelais-Bretonneau Université (NSERM-CHRU Bretonneau) in Tours city, French Republic. His desire is to become a doctor of good professional knowledge.
Doing his PhD thesis on the development of the newborn's brains in Tu Du hospital, he has a chance of doing further research on early diagnosis of brain diseases in babies. With Doppler ultrasonography, doctors can assess the brain's growth with age. If a brain disease is diagnosed early, the patient will take physical therapy to prevent the after-effects on the nerve. Otherwise, there would be little chance of recovery.
Vu Te Dang excitedly said, "During the time of doing research on the development of children's psychology, I accidentally found out a method to diagnose the abnormal signs in children's eyes, especially premature infants'. The infants are unable to tell their parents that they cannot see. But this method can stimulate their eyes. In the future, this should be further researched."
Luong Kim Chi, a doctor at the Infant Department of Tu Du hospital, shows much attention to Vu Te Dang's research and expects to join hands with him to set up a specialized center in early diagnosis and recovery for children with mental problems.
"During the time away from home to study, I got more mature and able to live independently although I missed the cozy atmosphere of my home very much. I realized that nothing just comes to us for nothing. What is really meaningful is what we gain with our own efforts," Vu Te Dang said.
So far, he has hardly ever been able to explain why he has such pre-destined love for children. However, he pledges to devote all his life career to children, including those still in embryo.
International conference of the World Federation for Ultrasound in Medicine and Biology (WFUMB) is held by turns in advanced countries every 3 years. The 11th WFUMB conference was held in Seoul, South Korea with the participation of 30 countries from 4 continents. Doctor Vu Te Dang presents the topic "Research on the growth of premature infant's brain by colored Doppler ultrasound shown through skull simulated by the light." The topic is part of the PhD thesis he does at the Infant Department of Tu Du hospital.