The Dao community of Nam Xay and Nam Xe commune in Van Ban District in the northern mountain province of Lao Cai celebrate Tet with a ceremonial 'Oath-taking' event to protect their natural forests.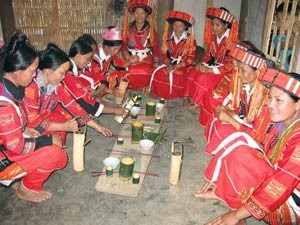 Dao people of northern Vietnam
This deep rooted ceremony is quintessential to their culture and this ethnic minority group lives up to its vow to protect their scared forests.
Dao people are known by various names such as Dong, Xa and Man people, however 'Dao' has become their official and most popular name. Their group has 9 local sub-groups who all adopt different costumes and diverse cultural practices. They treasure poetry and sing songs that express their love for nature and the forest.
Their forefathers imbibed in them a vital need to protect the forests and all generations of this group have subsequently felt a deep responsibility and duty to respect and love nature. Protecting the forests is vital for their daily existence.
For thousands of years the Dao people have lived and flourished with their families in forests in the mountainous region. They hold a ceremony every New Year to worship the forest god for a fertile green mountain, a secure life and good health for their people. The ceremony takes place on a vacant plot near the scared forest.
A sorcerer represents the entire tribe and begins his ceremony by offerings to the Forest God. He cuts a chicken by the neck and pours the blood into a cup of alcohol. This cup is then passed around to each family to sip and take their vow to protect forests. Each family joining the ceremony brings chicken, pigs, wine, rice and vegetable for a feast after the ceremony.

The Dao people understand that protecting the forests means protecting your water resources, hence they also say their prayers to the Water God. That is the reason why the youth in the communes always go to streams and rivers to carry back water to their homes as a symbol of good luck on New Year day.
During the day, there is much jubilation and camaraderie in the atmosphere as all families prepare for the ceremony in customary tradition. They also take part in other festival activities such as pushing the stick, tug of war and jumping toad. A song and dance program is also organized with folk songs and giao duyen singing.
The Dao people in different localities are known as Dao Do (Red Dao), Dao Quan Chet, Dao Lo Ngang, Dao Tien and Dao Quan Trang. Dao men adorn long hair which is coiled up at the nape of their neck. Their clothes are normally dyed indigo but the women wear much more colourful costumes, decorated with traditional motifs.
The Dao's have a rich folk culture and history, particularly in the field of traditional medicine. They don't have their own dialect but speak the language of the Mong-Dao group. They live in houses built on stilts and sustain themselves on rice which they grow in terraced fields or practice some advanced methods of wet rice cultivation. They have over the years opted out of their former nomadic way of life to a more stable and settled lifestyle.
They live in harmony with other ethnic groups in northern Vietnam and the Government has made great efforts to improve the infrastructure in their region, which narrows the gap between the Dao population and the rest of the country.