Da Nang City Committee of Ho Chi Minh Communist Youth Union, Da Nang War Veterans' Association and Da Nang Police cooperated with each other to give nearly 300 disobedient youths, who have acts of stealing and disturbing the public order, and have been educated and kept under house arrest of the local authorities, a tour to prison on September 7. The city's government hopes this treatment and educational method will help them to live better.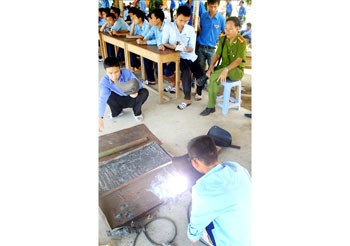 Da Nang's disobedient youths visit Tan Hoa School No.3  (Photo: Sggp)
The delegation visited Hoa Son Detention Center and Tan Hoa School No.3 which is teaching and educating young people with bad behaviors of provinces and cities in the central region.

They visited detention rooms, accommodations, studying and working places of guilty persons. Varied changes and tones of feelings can be seen on their faces.

"The visit helped me to realize the value of life" said Nguyen Viet Hung, 17, who left school when he was in the 8th grade and addicted to online games. He has been placed under house arrest of the local authorities because of breaking the law.

"I addicted to online games after leaving school and then became a crime. I lost my future. I hope you will not lose your life and torment your friends, teachers and family" Truong Ba Lien, student of Tan Hoa School No.3, advised.

"The city's government is always interested in you. I believe that you can choose the best things for your future, and will give up the bad and become a good citizen after this special visit" Danang Party Committee Secretary Nguyen Ba Thanh said at a talk with young people on the same day.