An enterprising Vietnamese businessman has created exquisite handicraft items from waste timber, which now are being marketed internationally in Wal-Mart retail stores.

The businessman has used the expertise of skilled artisans from Binh Minh Village in district Trang Bom in the southern province of Dong Nai, to convert waste timber from wood processing factories, normally used for firewood in brick kilns, into beautiful handicraft items. 
Waste wood gets make over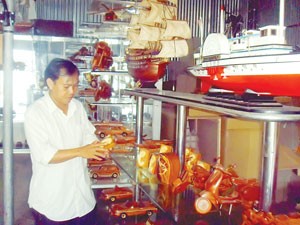 Nhan holding one of his handicraft pieces (Photo: SGGP)
At a recent convention on rural development in the southern province of Dong Nai, Deputy Minister of Agriculture and Rural Development Luong Le Phuong expressed his appreciation of businessman Nguyen Thanh Nhan's great entrepreneurial spirit in utilizing waste wood so creatively and productively. 
Phuong admired the fact that businessman Nhan has risen from being a poor worker to selling his wares at one of the largest retail stores in the world.

Phuong is now very interested in learning more about the business methods of Binh Minh Craft Village. The village serves as a model for rural economic development.
Nhan did not learn carpentry at home but much later in spite of his parents' disapproval. He is also handicapped with bad health. He was just drawn instinctively to handicrafts while touring Binh Minh Craft Village.
Most inhabitants of Binh Minh village have emigrated from North Vietnam; some come from established craft villages such as Dong Ky in Bac Ninh Province and La Xuyen in Nam Dinh Province.
Nhan recalls making the first wooden models back in 1975 with carpenter Ky Van who converted jack-fruit wood into a sophisticated design of a ship. Van sold his first item to a Russian in Ho Chi Minh City.
Since then, there has been no looking back. Artisan Van started making many items along with other skilled men in the village. These lovely items were displayed in prime shops in the city.

Slowly and gradually the wooden handicraft business began to grow and more people were inducted to learn the skill. The craft villages of Tra Co and Tan Bac were then established soon after.
It took Nhan more than four years to establish the handicrafts and initially he worked as an ordinary artisan in carpentry factories. At that time, handicraft items were a novelty but soon workers in the village were able to use this skill to create a steady income for themselves. Dissatisfied with the status of laborers in factories, Nhan decided to open his own factory, Thanh Nhan Company.
Wood processing plants have now mushroomed in the southern province of Dong Nai, facilitating handicraft making in the village. Nhan bought waste wooden pieces from processing plants at dirt cheap rates and crafted them into cyclos, motorbikes, planes, army weapons and decorative items which are now worth thousands of VND.
Gradually his products began to appear in stores in big cities like Ho Chi Minh City, Hanoi, Da Nang and abroad in France, Germany, United States and Hong Kong. Within a matter of five years, Thanh Nhan Company has become a large-scale factory in the village. At first, overseas visitors bought his products as gifts to take back home but soon Nhan began to receive huge bulk orders.
Dedicated workers
Nhan recalls how last year an enterprise from Bien Hoa City in the southern province of Dong Nai ordered two container loads of handicrafts to send to Wal-Mart. 30 workers slogged day and night at his factory to make timely delivery, even taking brief naps at their workplace without going home.
Visitors from the United States were admirable of such diligence in Vietnamese workers and also praised the high quality of such cheap priced products. Soon, Wal-Mart contacted Nhan to place a large order for 5,000 items a month. Nhan was worried as his factory can only manufacture 2,000 pieces per month which are for distribution in and outside the country.
When Chinese made products were discovered to contain toxic chemicals and were being boycotted, customers from Germany, France, United States and Hong Kong chose to buy Vietnamese products. Small-scale factories found it hard to meet the increasing demand. Artisans called upon local authorities to set up large scale handicraft villages. Local authorities did provide 2 hectare land for construction of a crafts village, however no capital was provided and lack of adequate infrastructure made it impossible to establish a feasible and functioning place for handicrafts. Nhan regrets that the project might soon disintegrate.
The 30 laborers of Thanh Nhan factory treat each other like family, having no boundaries between them of hierarchy, all are equal. Needy workers receive support from Nhan as he knows fully well the experiences of a hard life and sympathizes with all his workers.