A controversy has arisen in recent years as to whether blogging is good or bad for society, and the debate is fiercest among the members of the online community itself.
The blog call for blood donation
In Viet Nam, blogging really took off among the younger set in 2005 and 2006 with the introduction of Yahoo! 360, which doesn't ask for the user's full name and only requires a nickname (a "handle") and a name for the blog.
The online ratings outfit alexa.com ranks the number of Vietnamese bloggers fourth.
A blog, for those people who don't yet know, is a kind of personal online diary although the blogger can post anything they like (within reasonable limits), including fiction and opinion pieces.
Bloggers can be advertisers too, like Mr. Ca Dao of the Youth Publishing House, who uses his blog to introduce newly released books. Others are like the lawyer in Ho Chi Minh City who uses his blog as a kind of second office.
The pop singer Tien Dat is a keen blogger and reckons it has improved his ability to express his thoughts and made him less timid.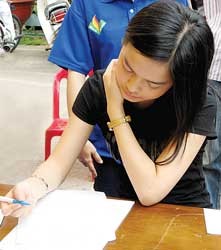 Singer Pham Quynh Anh responds to the appeal of giving blood
Another plus for blogging is the online community's support for charity work and good deeds in general. For instance, they called for public support for victims of the wartime defoliant Agent Orange, encouraged people to give blood or vote for Ha Long Bay's inclusion as one of the seven natural wonders of the world, and every one of their appeals has received an enthusiastic response from fellow bloggers.
Nowadays bloggers prefer to read other blogs rather than newspapers in the morning to find out what's going on. Often a news item will appear on someone's blog before finding its way into a newspaper, like the love affairs of a Ha Noi university student and the famous photo of traffic cops stopping a reckless driver.
As a result, some people consider a blog to be a kind of newspaper and every blogger an amateur reporter, and veteran journalist Mr. Le Quoc Minh notes how newspapers and personal blogs are competing with each other all over the world.
Of course there are negative aspects too, like obscenity and hate-mongering.  Media watchdog Tran The Tuyen from the Ministry of Culture and Information points out that no regulation has been introduced to control blogging but likes the idea of having a safety measure or two in place.
To this end, Yahoo Vietnam and Microsoft have teamed up to create software that replaces more than 1,000 crude words and phrases with the names of Vietnamese food dishes.
Not everyone is happy about this. In the opinion of the famous blogger known simply as "Joe", it's a crazy way to manage things.