Fixing a broken electrical appliance is hard enough for someone with all their faculties, yet one exceptional blind man has managed to make it his career.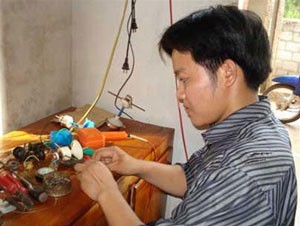 Phan Van Thu, the blind electrical repairman
Born in Yen Thanh District in the central province of Nghe An, Phan Van Thu was a healthy child. But it all changed when he reached the age of eight. As his father recalls, Thu's vision started becoming blurry and one year later, despite the family's efforts, Thu lost his sight completely and the chance to stay at school.

One day Thu was at a wedding reception when he was drawn by the beautiful melodies coming from a guitar. He began to teach himself how to play and became so absorbed in it that his family decided to buy him an electric guitar.

After a few months, the self-taught Thu was so good, and word was traveling so fast, that he was being asked to play at wedding parties all over the district.

Thu's talent as a guitarist and as a singer helped him win the heart of a girl named Nguyen Thi Tram, who became his wife in 2005.

Living with his new bride, Thu realized that a performer could not make enough to raise a family, not in his case, so he switched his interest to repairing electrical appliances.

Thu began learning by pulling apart broken radios and electric fans, and visiting electrical shops to get some tips from the repairmen. Since he was blind Thu couldn't see the screws, chips and whatnot in the appliances, and sometimes it was so frustrating that he broke down and cried. But he was strong willed by nature and refused to give up.

After numerous experiments and failures, Thu began to gain more knowledge of electrical devices and managed to repair some simple things like lamps, fans and pumps. Unlike other repairmen, Thu did not use any tool but his hands to examine the appliances, yet his methods worked most of the time anyway.

His tireless efforts paid off, the name "Thu-the blind electrical repairman" became widely known, and many people started coming to him with their broken appliances.

Thu's life has been much better since he swapped trades. Moreover, he never forgets to help the poor and is willing to do a job for nothing if someone cannot afford to pay for his handiwork.