A young blind man in Ha Tay Province with two university diplomas told us how he overcame his disability and is now a doctor of herbal medicine who employs similarly afflicted people.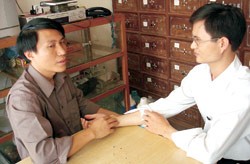 Pham Van Son examines a patient at  his clinic
Pham Van Son of Thanh Mai Commune, Thanh Oai District was born into a poor farming family. Like two of his four siblings, he eventually went blind from the lingering traces of the wartime defoliant Agent Orange.
 
At the age of seven, Son started school like the other village children, but gradually he became sightless as the years went on. By the time he entered high school, he couldn't see at all. 
 
He was forced to rely on his ears instead of his eyes, yet he managed to master every subject by recording the lessons but it was too difficult for him to write on the exam papers.
 
To overcome this problem, he devised a wooden frame with a hard back to put writing paper against, and strings to make lines. Thanks to this equipment, he graduated from high school and passed the university entrance exam.
 
His first diploma was from Ha Noi Open University, after which he decided to enter Tue Tinh College of Traditional Medicine.
 
During this time he helped his hard-up family by working as a street vendor and tutoring in his spare time.
 
It took a while but eventually Son saved up enough to buy Professor Do Tat Loi's book about the herbs and herbal remedies of Viet Nam. He got a friend to read the book out aloud, recorded the words and translated them into Braille.
 
This labor of love took him nearly 10,000 hours by his calculation but at the end Son had produced the biggest book in Braille yet seen in Viet Nam.
 
"I've learned so much from this translation because every page is packed with useful information. It's been my guiding light," he said.
 
To make it easy for the lay reader to understand, Son has converted nearly 400 remedies in the book into poems of alternating six and eight-word lines. "This kind of poetry is familiar to Vietnamese people so the remedies are simple to remember," he said.
 
After graduation, Son opened a consulting room in Ha Dong to cure the sick with herbs and massage. 
 
It was tough at first but, within a few months, Son's surgery was gaining a reputation as the place to go for beneficial treatment and excellent advice.
 
He also began teaching his trade to others like himself and went on to employ them in his clinic. He has trained 50 disabled people so far. In 2004, he attended a training course in Japan after being invited by the Japan International Cooperation Agency.
 
"I want to help sightless people as much as possible by giving them a chance to study and a career so that they can afford a better life," said Son, who harbors a dream of opening a modern school for the disabled.
 
His idols are the venerated Hai Thuong Lan Ong and Tue Tinh, who were both prolific writers and devised many successful treatments, as well as the still-living professors Nguyen Tai Thu and Do Tat Loi, and intends to honor them by making an ornate emblem containing their portraits.