Mr. Le Quang Xuyen is proud of being the only person patient enough to move from place to place to follow swarm of bees. He and his bees were frequently homeless as they traveled widely in search of blossoming trees.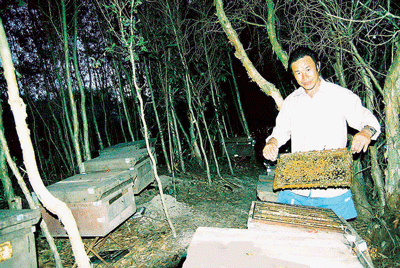 Mr. Xuyên changes a frame of a honey bee hive
In a late afternoon, Mr. Xuyen in the middle of cajuput forests which were along the highway in the Mekong delta province of Long An. He turned over every box of the beehive, saying, "The bees work hard during the day. I do this to help them save energy. They don't need to go inside the hive to split honey out." I observed his hands which were covered with bees. When he noticed my fright, he smiled to calm my nerves. He said, "You don't need to be afraid of them since they are so nice." Then he continued to turn over other hives skillfully.
Mr. Xuyên used to be a technical worker at Ha Nam Ninh Bees Company in the northern province of Ha Nam. The company opened a branch in Ho Chi Minh City in 1990. He and his family moved in with relatives in Go Vap District. He retired in 2004 after 24 years of keeping bees. Drawing upon his professional experience, he and his wife decided to start a bee-keeping business with the support of Mr. Xuyên's old company.
A successful bee keeper must be able to find the blossoming plants and have be willing to spend at least a VND 50 million (US$3000) for a farm with 200 swarms, Mr. Xuyên said. Moreover, he must know how to take care, feed and breed bees. If they are sick, he must isolate, cure them of disease or move them away in order to change the environment. Therefore, he must be patient and hard working if he wants to stick with the job. "These are very important factors to be successful," he said.
The life of a nomad
Mr. Xuyên now manages more than 400 colonies of honey bees, including two 'mobile' bee farms, moving constantly between the North, Central, and South regions. His breeding stock increases every year, so he employs family members to help, especially at times like the current honey harvesting season. Keeping bees is a laborious business. For six months, he brings his bees to the North. Then he takes the bees the South for another six months.
The honey season normally begins in March at the litchi orchards of Bắc Giang, the longan orchards of Hà Nam, and the aegiceras woods of Giao Thủy. In May, he reverses the trip to Mộc Châu, Sơn La, then back to Hòa Bình. September is the time to bring all the bees to Đồng Nai, Bảo Lộc to nurture (mainly to multiply bees). He confided to me, "In the nurturing time, I have to buy sugar to feed the bees.
These 400 colonies consume around 15 tons of various kinds of sugar!" he said. The end of the breeding season in December in the beginning of the honey harvesting season at the cashew and rubbers woods of Bình Phước, the cajuput woods and the longan orchards of Long An, Tiền Giang, Bến Tre, Vĩnh Long, and Đồng Tháp.  Mr. Xuyên then takes his bees back to the orchards of Bà Rịa Vũng Tàu, and Đồng Nai.
Keeping bees is not an easy job. Everyday, Mr. Xuyên gets up early to tidy up the colonies, change the frames, exclude the male pupas, and checks the queen regularly. Taking honey from hives requires skill. The frames must be gently removed so the bees are not injured.
The honeycombs are put into a centrifuge to extract honey and tidy them up before being put back into the supers. He informed me that every honey taking turn lasts around 10 – 15 days, producing approximately 2.5 – 3 tons of honey. Before moving bees to farm with blooming flower, he has to survey areas a week or maybe a month in advance.
Meanwhile, he must wait until it is completely dark when all the bees have returned to their hives, to transport the colonies with hired trucks. There are times when he encounters 'troubles' because farmers think that his bees will eat up all the pollen of flowers, so they refuse to allow him to put the hives in their farms.
He explains that, "Bees will help flowers pollinate, thus increasing productivity, which only earns profit to agriculture and brings no harm to your crops!"

Still there are people who turn him away, threaten to spray pesticide, and force him to leave. However, such times are quite rare, since most of the time, farmers happily invite him to put his hives into their rambutan, longan, gourd, or squash farms so that the bees can aid the pollination process. As he says this job is not always sweet as honey but quite bitter sometimes.
There are times when the market is unstable and the price fluctuates year after year.  Mr. Xuyen incurs such losses and becomes so poor that he wants to go out of business. But the loss and profit also depends on the weather. Weather changing, sudden rain and storm make bees stop working, and thus decreasing honey productivity.
Under the moonlight of the pure summer night, I accompanied him near the hives lying quietly in a gloomy and cold cajuput woods, listening to the endless sound of insects. He enlarged the lamp wick as if to dispel the somber atmosphere full of mosquitoes, pouring a glassful of viscous fluid.
"This is cajuput honey, have a try!" he said. "Each season has its own honey flavor. Some people like cajuput honey, others love longan honey (with amber color), aegiceras honey (with yellowish white color), or mint honey (with extra white color)."
For him, longan honey is still the best. During the years moving around with his bees, he has encountered various kinds of people, witnessed a range of tragedies as well as comedies.
"Bees are different from human beings in that they are born to work, not to merely enjoy," he said. "They live in a community in which jobs are divided clearly. This is their instinct."
Bidding farewell to him, I still remember the sweet and fragrant taste of the cajuput honey glass and a saying, "honey breeders are also diligent like bees themselves."