The volunteers who man the Anonymous Testing Stations, as the clinics are called, appear whenever someone needs them. They are kind-hearted souls who do more than take care of the sick – they bring hope.
At a testing station in Ho Chi Minh City's District 2, I saw nearly 20 young people waiting for a consultation and free medicine.
One of them was a woman from Go Vap District who had turned to drugs when her family began disintegrating and had subsequently contracted HIV from a dirty needle.
"I've been taking medicine for four months now yet my CD4 count (cluster of differentiated 4-a glycoprotein expressed on the surface of T helper cells, regulatory T cells, and dendritic cells) has gone up from three to 153 cells per cubic millimeter of blood," she told me.
A young man was waiting at a testing station in Binh Thanh, looking worried because he'd had unprotected sex with someone new. After talking with a volunteer consultant named Quang Trung for half an hour, he seemed calmer and stoically agreed to have his blood tested.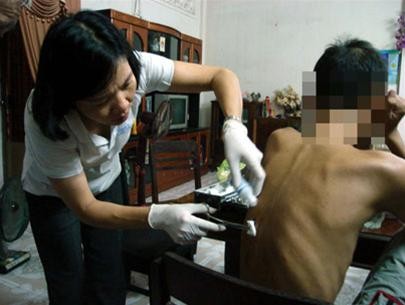 Ms. Hong applies lotion to the ulcerated back of an AIDS sufferer in his home
Besides manning the stations, the volunteers go around and visit AIDS patients in their homes.

And get around they do; just four people from the testing station in Binh Thanh take care of more than 150 AIDS patients at home.
We traveled with Ms. Hong and Mr. Hien to a home in Ward 28, District Binh Thanh where a skeleton of a young man was waiting for them.
Hien coaxed him into swallowing a spoonful of soup while Hong applied lotion to his dreadful skin ulcers.
It's a bit of a surprise to find that most of the anonymous testing stations stay open until eight at night. Explaining this, volunteer Nguyen Hung Dung said some people would not go there in the daylight hours for fear of being recognized.
At some stations, like the one in Binh Thanh, the honorary consultants even work through lunchtime. The pressure of their work can be intense.
Most of those who come to a testing station are in despair so the volunteers need to listen carefully to their stories and try to understand their problems and situation.
"The miserable lives of AIDS patients and the faith that the volunteers have in life are what spur them to help these poor men," said a doctor working at the District 2 station.
"She was debilitated and desperate" is how another doctor recalls the destitute woman mentioned above on her first visit. "I realized she had more problems than just her illness, dreadful as it is, so I tried to find out more."
"For one thing, her "house" was a sheet of wood laid across two tombstones; she was living under that. So we all got together and appealed for donations from the public so that we could find a more fitting place for her."
The young doctors who work at the testing stations spurn the tempting offers of big paychecks from other potential employers because they want to care for the people who need the most, because they are members of the human commune.
But there can be a cost, like for the volunteer at the District 2 station who ended up getting divorced because her husband had not wanted her to continue the dangerous work.
These volunteers understand one important thing: rather than the disease itself, AIDS sufferers die of physical and spiritual neglect because they are isolated from the community.


There are currently 16 anonymous testing stations in Ho Chi Minh City. They offer free counseling, testing and treatment to anyone who asks.
An organization called Marie Stopes International Viet Nam works closely with Viet Nam's Ministry of Health to provide family planning and sexual and reproductive health services in Ha Noi, Ho Chi Minh City and other parts of the country.