A mechanic named Kien Hung in Tra Vinh province who did not finish high school has shocked everyone, even local scientists, with his excellent invention: a peanut peeling machine.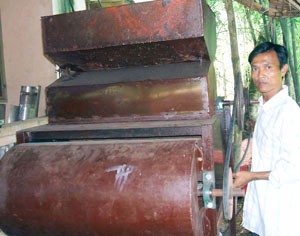 Kien Hung and his peanut peeling machine
Kien Hung was born in a poor Khmer family in My Hoa commune, Cau Ngang district, Tra Vinh province. Due to the family's financial situation, Hung was forced to quit school and earn money for a living.

Mr. Hung's first turning point was when he was employed as a trainee in a mechanic workshop. During his two years working there, Hung did not receive any decent training lessons but learned the skills by observing other mechanics' work.

In 1986, Hung joined the army and moved to Cambodia for three years. He then came back and worked for a factory in Hau Giang province. With a strong passion for the job, Hung put great efforts into improving his skills and soon was known as an excellent mechanic.

Two years later, the mechanic came back to his hometown and became very famous among the locals for his skills in repairing rice plucking machines.

Another turning point of Hung's life was when he met Ba Ngoan, a farmer planting peanut trees in My Long Bac commune. Ba Ngoan came to Hung and asked him to create a peanut peeling machine.

Ngoan's suggestion reminded Hung of his childhood when all of the people in his hometown, including women and children, had to stay up all night to peel peanuts with their hands for early shipping the next morning. The tiresome feeling of doing the work still stayed fresh in his mind and thus, Hung accepted the job offer.

In 1995, Hung moved to Ngoan's house to concentrate on the project. After countless experiments and sleepless nights spent on the research, Hung began to create a peanut peeling machine resembling a small rice husking machine.

Over a month later, Ba Ngoan and Hung, the amateur "engineer", were moved to tears upon seeing their newly-invented machine fully operational. The machine which could peel 1,500 kg of peanut per hour, equivalent to 40 days' worth of work, brought them more benefit and fame than they had expected.

Since its birth, the peeling machine has encouraged local people to plant more peanut trees and many of them have managed to escape poverty. The machine has also helped its creator to gain more business opportunities.

Hung's factory has received 17 orders for peanut peeling machines from farmers in the Mekong Delta. Other products including the rice husking machine made by him have also received enthusiastic responses from farmers in the province.

With the help of the Department of Science and Technology and the Tra Vinh Agricultural Expansion Center, Hung is currently conducting more research to upgrade his invention. The peanut peeling machine's current version is 2 meters tall and can peel 2,100kg of peanuts per hour. Each machine is sold at VND4.5 million, which is about US$281.