Fragments of ceramic ware and stone statuary ware from an old shipwreck have been found on an ancient ship found under water near the islet of An Binh, 3km from Ly Son Island in the central province of Quang Ngai.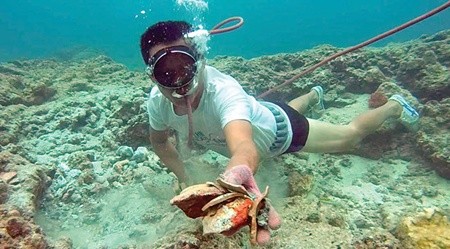 Buried treasure: A stone arch under the sea off An Binh Islet in Quang Ngai Province. Divers found ceramic and stone pieces nearby from an ancient cargo shipwreck. — Photo courtesy of Doan Anh Duong company
Director of Doan Anh Duong tourist company, Doan Sung, said his divers had found hundreds of broken ceramic and stone pieces believed to be from the 13th and 15th centuries.
"Archaeologists believe the ceramic pieces are from the 15th century, while the stone fragments are thought to come from the Champa Kingdom in the 13th century," Sung said.
"I dived more than 10 metres down and found the stones on a large coral reefs. We have been seeking a sunken ship wreck that carried the cargo," he said.
The company, which was assigned by the Quang Ngai authorities to survey the area, also discovered a large coral reef complex and stone arch in the water.
"Our staff also discovered a volcanic arch made of rocks, which is similar to one off the coast of Ly Son Island. But the recently discovered arch is larger," he said.
"The stone arch was formed 250 million years at the same time as Ly Son Island was created by four volcanoes, now dormant.
He said his company planned to develop the area and coral reefs as an eco-tourism and scuba diving site.
Last year, the company, in co-operation with Vietnamese archaeologists, excavated another sunken ship, a 700-year-old cargo vessel said to be the oldest shipwreck found in Viet Nam, buried in sand only four metres under the sea off Binh Chau Commune.
They found 268 buckets of artefacts, including porcelain dishes, jars, bowls, pots and coins. Many were in perfect condition.
An international conference on shipwrecks will be held in the province from October 14-16.
The province has not yet decided to lift the 700-year-old shipwreck out of the water and preserve it in a museum.
Huge wooden anchor found in Hue
Fisherman Nguyen Hao has found a giant wooden anchor in the Thuan An Sea off the central city of Hue.
After pulling the eight metre-long anchor out of the water, Hao sold it to his neighbour, Nguyen Van Chinh, who then contacted the Hue Monuments Conservation Centre to find out if they knew more.
The anchor may have belonged to a ship passing through the area between 1600 and 1885, said Ho Tan Phan, a researcher with the conservation centre.
It is the largest wooden anchor ever found in the area.
Large wooden anchors believed to have been from invading Mongol ships in the 13th century were recently found in northern Viet Nam.