The Prime Minister's decision in early 2010 to establish An Giang Border Gate Economic Zone (BGEZ) as one of the nine major economic zones has changed this southwest border province.
The province received approximately 4.3 million tourists in 2010 which boosted local retail and exports to US to more than US$126 million. Tinh Bien, capital of An Giang province, a border area near Cambodia, has attracted VND850 billion (US$44 million) investments in 2010.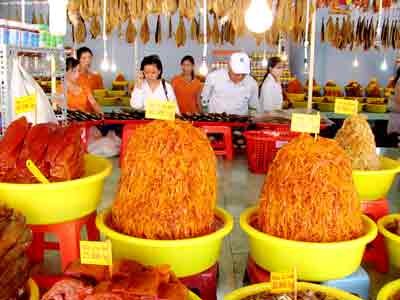 Mam, a type of fermented food made from fresh-water fish, crab or shrimp ( or fermented food), sold in the duty-free shopping complex at the Tinh Bien border gate
40 business people have invested over VND350 billion (US$18 million) in the duty-free shopping complex at the Tinh Bien border gate.

In addition, the province plans to construct new urban townships Tinh Bien and Nha Ban, as well as modernizing the amusement park and Industrial area An Phu.
The Mekong Delta Tourism Association has just selected 100-ha Lam Vien Tourist Park in the Mekong Delta province of An Giang as an ideal tourist vacation spot 2010.
Nui Cam, the highest peak in the mountainous region of That Son or Bay Nui (seven mountains) in the southern province of An Giang overlooks the Mekong Delta province and is steeped in legend, ancient relics and historic sites.
To reach Nui Cam or Thien Cam Son (Heaven's Forbidden Mountain) in An Hao Commune in Tinh Bien district you drive 70 kilometers along the National Highway 91 towards the west then turn towards the Provincial Highway 948.
As Tet (lunar New Year) approaches, it is estimated that millions of visitors will flock to the holy mountain. A 4-hectare parking lot at the base of the mountain has been made ready and registered motorbike taxis will take turns to escort tourists to the peak.

According to Ly Thanh Sang, director of Lam Vien Tourist Park, the number of tourists has increased by 10 percent in 2010 although it is not yet peak season.1, 200 – 1,500 visitors have already visited the mountain.
The mountain is undergoing many new construction projects like a water reservoir to serve pilgrims. The project to supply water to the tourist resort with 1,000 meters cubic per day would be complete by next April. Moreover, an amusement park with a resort and convention hall will be ready within the next few years.
Half the population in this mountain area work in tourist-related fields and the number is ever increasing. Community tourism has created opportunities for families to run taxis, guesthouses and eateries. A rice eatery owner revealed he earned VND7 million (US$400) a day and a motorbike taxi driver said he earned about VND500, 000 to VND1, 5 million (US$27-79) per day.
Just a few years ago, Tinh Bien and Tri Ton with a population of 80,000 was the poorest district of An Giang province. These days, most villagers used electric gadgets and had access to a clean water system. The rate of poor households has decreased from 18.12 percent in 2005 to over 9 percent in 2010.
People now understand the importance of education and are encouraged to send their children to schools. More than 50 students are training in vocational schools or in universities. The school for ethnic minorities An Giang has seen an increase of over 400 students for higher education since 2000.