Working for others to save up for some land, finally getting a decent plot, then letting poor farmers use it for free is typical of Tran Van Soai of An Giang Province.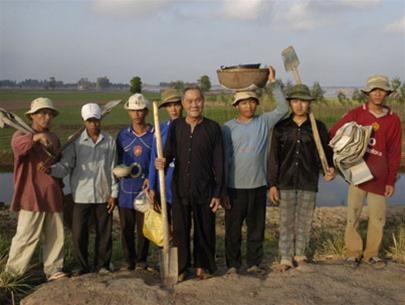 Mr. Soai goes to the field with the young farmers every day
For fifty years now Mr. Soai, who lives in Vinh Xuong Commune, Tan Chau District, has helped his poorer neighbors by the score and given many of the village children the chance to go at school.

Coming from a poor family himself, Soai had to work as his parents could not afford school. At the age of fourteen, he went to live in a local pagoda.

During the war, he experienced the shortage of rice first hand and observed the tough life of farmers, so he decided to rent barely arable land in remote areas and farm it in a way that would improve the soil.

After a decade, he owned nearly one hectare and lent it to poor, landless farmers. To encourage the use of superior rice strains and farming methods, he provided them with seeds and fertilizer.

After a few years of this benevolence, more than 60 families had saved up enough to buy land of their own.

Soai continued the good work after the war by buying 12 hectares of land to build a school for the village children and a cemetery for the poor.

Now 74, he still travels all over the place in search of newer and better farming methods for his neighbors. His plots of land are equipped with modern machinery and convenient irrigation systems, and it is on his land that scientists frequently choose to try out new crop varieties.

Besides land, Mr. Soai also makes interest-free loans to villagers who need money to build a house or buy a fishing boat.
Children in the village love Mr. Soai very much
Plans are afoot to build an industrial estate near his home. Soai intends to take advantage of this by equipping the village children with the sort of skills the new zone's tenants will need.

His numerous accomplishments also include setting up a club for the local farmers, raising money to buy computers for the village, and building five more classrooms at the local school.

Soai does not allow any children to quit school because of financial problems. To keep the kids' formal education on track, he takes care of the teachers too and makes sure they have what they need to continue their important work.