In the noise of operating machines, rises a singing voice somewhere in a corner of a wood painting factory. It is Nga's voice, a little girl with two paralyzed legs from her young age, as a consequence of Agent Orange that her father carried. Her wheelchair used to be her only friend.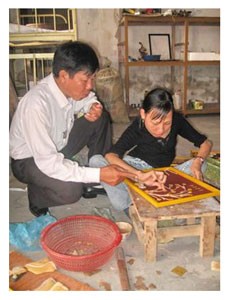 Tran Sach Cuong (L) and his student.
The first vocational course was offered to Agent Orange's children victims at Tan Lap, Thai Binh Province in June 2006. Nguyen Manh Hao and Tran Sach Cuong had experienced such a harsh way to be able to build the class.
Being a veteran, Cuong always thinks hard about the aftermath of Agent Orange left in his country; specially on those innocent children who suffer paralysis. For many times, he wondered why not to teach them certain occupations so that they do not become the burdens of society.
With that thought, he worked very hard and sought for help from many places so that Tan Thanh Company could be born for the purpose of helping Agent Orange's victims. "Establishing the company just meets the required procedures. In fact, there are only me, my brother and the poor children in the company", Cuong said.
Cuong cleaned up an abandoned primary school and spent his money on rebuilding the old rooms to provide the children with a decent place to live and study. He bought beds and even television, radio for entertainment.
The children were apprenticed to Vuong Thi Thanh Van, a boss of ADZ wood painting company in Ha Noi. However, they could not study well due to their illness. Cuong and Hao decided to learn wood painting so that they could train the children after Van left.
The two fathers are always busy teaching their 21 children from detail like drawing, cutting, polishing, painting. The atmosphere becomes even warmer every dinner time.
People usually call them child victims but they are actually not young at all. For instance, Xuan, who lives in Thai Binh, is 26 years old but he looks like a class 7 kid; or Yen, a 24 year old girl with both atrophied legs, can only move on her arms.
In August 2006, VaVa wood painting team received good news: Ms Lan Huong from Youth Theatre visited and decided to establish a musical band. At first, everybody was worried about their appearance. However, they gradually got used to it and a band called "The Orange" was born. Although the band with 4 deaf and dumb members and other disabled members practiced very hard. They now can sing, dance, and even perform mime well.
Their first performance on December 21st interested a lot of people at Tan Lap village. Many of them could not hold their tears. At the end of the performance, VND 430,000 was donated spontaneously to the band.
"The Orange" band has performed at many places in the province, such as greeting a Japanese group who visited and donated wheelchairs or performing at Kien Xuong on the occasion of greeting the local congress … By his gesture, Thao said that he would like to perform in Hanoi and that he did not need wages, all he wanted is everybody's understanding to unfortunate children like him.
Happiness is not complete when their products were returned sometimes because the quality cannot be compared with those made by ordinary people. The first course has not finished yet. It probably will when the products of those unlucky children are displayed at overseas stores and their voices can be heard everywhere.