A priest has helped more than 6,500 Christians in a remote commune in the central province of Quang Binh escape poverty and improve living conditions. The parishioners have been able to start their business, make income, get access to clean water and build a strong community.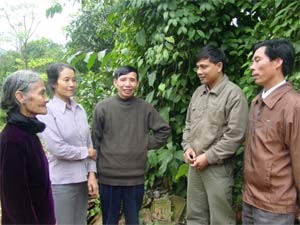 Priest Ho Thai Bach (C) talks about business with locals (Photo: SGGP)
Priest Ho Thai Bach graduated from Vinh Friary in Nghe An in 1994 and has been responsible for parishes Khe Gat and Chay in the mountainous commune of Xuan Trach in Bo Trach District, Quang Binh since then. Many parishioners were poor, some were very poor.
Starting point: 23 cows
Father Bach wanted to help them escape poverty. He saw the potential of developing livestock and cultivating some crops but the poor locals did not have enough money to start business. He decided to borrow some money to buy 23 cows for the 23 poorest families. His condition was that 15 months after the cows gave birth, the families had to give the cubs to him so that he could allocate them to other households. The locals supported his way enthusiastically.
From the initial number of 23 cows, the herd has expanded to more than 500 now and almost each family has a 'Father's cow', as the animals are called.
He does not want to tell his story to reporters. "Nothing to tell at all. I have done a priest's responsibility," he said.
Luckily, Mr. Nguyen Xuan Le, an official in the commune, told a few about the priest.
"Father Ho Thai Bach always thinks about how to help parishioners escape poverty. After developing the herd of cows, he built 11 kindergartens, VND65-91 million each, for the parishes' children in 11 hamlets. This has helped the kids with pre-school activities and given parents more time to work," said Le.
Before the priest came, nobody could cultivate long-life crops. He grew thousands of peach, longan and pepper trees around his church. Then, he explained to the locals how to grow the trees and gave them the fruits to taste. He patiently taught them and the residents could grow the trees successfully.

Local woman Nguyen Thi Man said, "I did not know previously which trees to grow in my garden. With the Father's assistance, I made it and we can live on sales of the fruits.
Hundreds of local families have escaped poverty and improved their living conditions. Most households have TVs and motorcycles.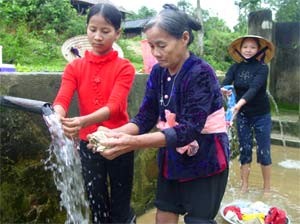 Local residents use "Holy Water' (Photo: SGGP)
Holy Water
Another project by Father Bach is water supply, and the project is called "Holy Water".
This story began in late 1990s when thousands of the locals had to take water from a stream in the hill. The source was polluted by washing activities and cattle livestock, and the residents often suffered from diseases.
Father Bach got some loans to build a filter at the source and install pipes to carry clean water to houses. On the day clean water reached houses, parishioners cheered "Holy Water", and it was how the VND100 million project got its name. Many diseases have disappeared since.
The priest also pays attention to education for poor children. Dozens of them have finished high school with his support, and he has paid for those wanting to go to university. So far, eight of the students sponsored by him have finished universities in Viet Nam.
Asked about funding for this, official Nguyen Xuan Le said, "He has raised funds everywhere and borrowed loans."
He has called for funding from Vietnamese and foreigners. The fact that all projects have succeeded has built up donors' confidence.
A project under way now is building 20 kilometers of concrete roads in all hamlets to replace pathways to avoid mud in the rainy season.
Obviously, all he has done have contributed to a better life for thousands of residents. Notably, local officials have supported all of his efforts for the sake of the parishioners.