Seven years ago, a teacher from a southern province of Kien Giang, Mr. Nguyen Thanh Van, decided to move to a small poor pagoda in District 6 of Ho Chi Minh City to teach the poor and orphans, bringing them a brighter future.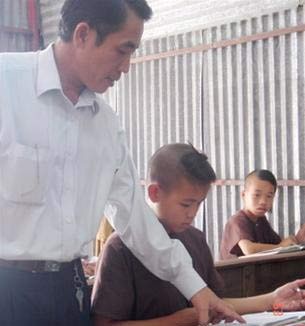 Mr. Nguyen Thanh Van and his students
Becoming an orphan at the age of nine during the war, Van and his four brothers and sisters spent their childhood in poverty with their old grandmother. It was this hard life that encouraged him to try his hardest to become a primary school teacher in his hometown.
In summer of 2000, a cousin offered him a good job in HCMC but when seeing the pitiful orphans and poor children in Tu Hanh Pagoda, he determined to do something for them. "I find myself in these poor orphans," he said.
 
With no salary, he began to gather them in a small shed behind the pagoda to teach. To make tables and chairs, he had to pick up pieces of wood and iron around the garden. 
 
His students, mostly street children, go to school in tattered rags. From an early age they have done many kinds of jobs to earn a living, but all of them are polite. 
 
After seven years of teaching, he found a better place for his students to learn, but their classroom is still small and very hot (because of the corrugated iron roof).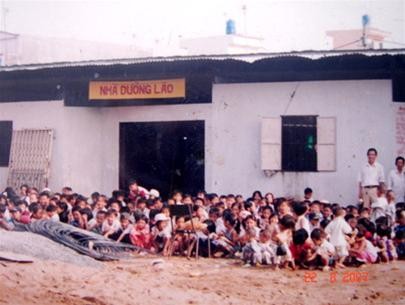 Mr. Van and his students in front of their first classroom
They may be teaching and learning in uncomfortable conditions but it was here that all students completed primary school and many became excellent or good students in secondary schools.
 
"My students are intelligent, and I often tell them stories to help them develop good behaviors," Mr. Van said. 
 
Thanks to his education, his students now are willing to share what little money they have to help their friends in difficulties.
 
Mr. Van is living with his family in a small, stuffy room in Tu Hanh Pagoda, but he said, "I cannot leave my job here because of the children's affections. They have a very hard life but they like studying. The new school year has come, and I don't know how to find school items for them!" he sighed.
 
The teacher is now in old age with an injured lung from the war, but he is still continuing his job for the poor and orphan children in spite of the difficulties of his own life.