Seventy-year-old war veteran Tran Ngoc Chau and his late wife Nguyen Thi Dinh are a shining example of how love can conquer all – even during the hardships of war.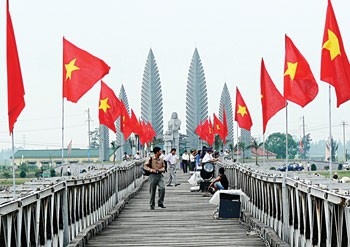 Historic Hien Luong Bridge (Photo:SGGP)
The region where the couple lived during the Vietnam War, to the south of the Ben Hai River in the central province of Quang Tri, is a low-lying area prone to yearly floods. Thus, most houses included a wood mezzanine for people to store furnishings and stay dry during the floods.
Mr. Chau said it was also the place where he hid from American forces during the war.
"On our wedding day, I had to conceal myself on the mezzanine from the enemy and was numb with grief," says the man. "My wife cried and made an offering to our ancestors alone."
The war veteran went to work at the Hien Luong military post, located to the north of Ben Hai River.
Periodically, the husband and wife would see each other when Mr. Chau was working on the Hien Luong Bridge over Ben Hai River.

Under the Geneva agreement on Vietnam in 1954, Ben Hai River was selected as a temporary demarcation line separating the country into two parts. Hien Luong Bridge located in 17th Parallel was bisected between South Vietnam and North Vietnam at that time.

Ms. Dinh would pretend to wash clothes by the river, denying the desire to run and embrace her husband.
After 13 long years, the couple was finally reunited in 1963 and in 1968, they had their first child.
At this time, the US was attacking heavily in the south and people were evacuating to northern areas.
Ms. Dinh headed to the northern province of Nghe An, while her husband stayed to fight in the south.
Ms. Dinh passed away but Mr. Chau says their love transcended both time and adversity.
The famous Hien Luong Bridge was the site of many combats during the Vietnam war. It is the place where soldiers fell and sacrificed their lives for the country, but it is also a place that many couples recall when reminiscing about happier times of peace and love.