Great interest has been expressed by Buddhists and archeologists, as a 2,000-year-old Buddhist palm book is put on display in an exhibition in Huế.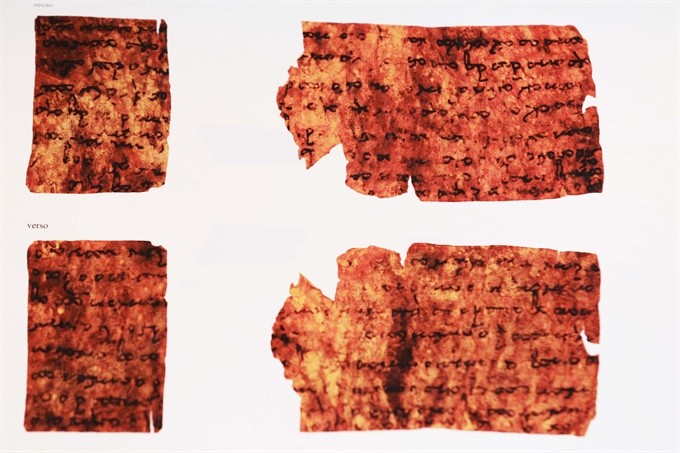 Holy book: Part of the ancient palm book. (VNS File photo)
The rare ancient Buddhist manuscripts from the Schoeyen Collection will be displayed in the city's Theravada Huyền Không Pagoda on Tuesday and Wednesday for public viewing.
According to venerable Pháp Tông, deputy head of the Buddhist Sangha of Việt Nam, Vietnamese Sangha and Thai Sangha worked together to organise the exhibition of the ancient book, a world cultural heritage item.
"The arrival of the precious ancient palm book in Huế provides an opportunity for Buddhists to have a look at a glorious stage of Buddhism from 2,000 years ago," said the venerable.
He also praised the displaying of the palm book as a great archaeological achievement, saying the exhibition would be meaningful to local researchers as well.
In recent weeks, delegates from the Norwegian Government and the Thai Buddhist Sangha arrived in Huế to prepare for the exhibition at a pagoda, which is located on the outskirts of Hương Hồ Commune, about 5km from Huế City's centre.
As of Monday afternoon, Apr 25, some 50 Buddhist officials and followers from the Thai Sangha accompanied the arrival of the Buddhist manuscripts from Thailand.
Also, a lantern floating ceremony will be held on the local Hương River to express solidarity between ASEAN countries with the participation of the countries' officials.
The rare and valued palm book was found in fragments in caverns near the border between Pakistan and Afghanistan by professors from Norway, Japan, German, and the US. Formal arrangements were later agreed upon with the collection's owner, Martin Schoeyen.
The book is a world cultural heritage item, under the supervision of the Norwegian Government, which authorised the Thai Sangha exhibitions in South East Asia and North Asia.
Venerable Pháp Tông asked to borrow the book for an exhibition in Việt Nam after he saw the book displayed at the World Peace Buddhist Conference held in Myanmar in January this year.
At the exhibition, a collection of old Buddhist Tipitaka books in Pali Latin, English, Burmese, Thai, Chinese and Vietnamese will also be showcased.
The exhibition is this year's first event at the biennial Huế Festival, which begins April 29.