The subversive terrorist organization Viet Tan (Vietnam Reform) is exploiting and inciting patriotic, angry and desperate people to rise against Vietnam people's government, as confessed by some members of the group.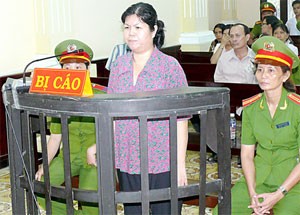 Tran Thi Thuy, a member of the subversive organization Viet Tan, behind bars at Ben Tre People's Court
The People's Court of Ben Tre Province in the Mekong Delta recently heard the trial of seven people, namely, Tran Thi Thuy, Duong Kim Khai, Pham Ngoc Hoa, Nguyen Chi Thanh, Nguyen Thanh Tam, Pham Van Thong and Cao Van Tinh, charged with conducting covert activities to overthrow the people's government.
All members have attended the US-based Viet Tan training courses in Cambodia and Thailand, which expounds violence of the masses.
During the recent hearings, Thuy and Khai revealed that members of the group are taught how to develop fake sites on social networks to incite young people in Vietnam to join in demonstrations and cause public disorder.
Members of the organization then record the unruly and chaotic occurrences and post them on the Internet to show their power of influence and increase sponsors like other anti-government groups.
In May 2010, Thong and another member Ngoc Da from HCMC distributed leaflets in Vietnam propagating  an association that was sympathetic towards the plights of  Vietnamese people and  bring people from provinces to HCMC to protest and march against any injustices they may have suffered.
This was meant to incite the masses to raise their voices and cause unrest so that the Viet Tan members could record clippings and post them online to assert their power.
Thuy confessed that Viet Tan has exploited the simmering anger in people of the Mekong Delta provinces whose land titles were revoked under some government programs, as well as incite people's religious faith to rise against the government.
Viet Tan leaders have told group members to play the China card as much as possible to incite patriotic youth to agitate and cause public disorder. They have been asked to make full use of the volatile ongoing East Sea dispute between Vietnam and China.
Recently a leader of the group Truong Tan Lac gave Thuy some documents to deliver to Khai along with many banners and T-shirts with the slogan "Truong Sa (Spratly) – Hoang Sa (Paracel) - Vietnam" in preparation for demonstrations in Vietnam.
Thuy said that the group was founding and basing its covert movements using patriotism as a basic theme. He and other members became part of the group after their dissatisfaction and disillusionment meted out by some local officials.
After Thuy's arrest, her family has lodged several complaints in  different departments stating that their daughter was innocent.
Truth is that Thuy has on many occasions spoken on the phone with an overseas Vietnamese named Hung in the US from her home in the delta's Dong Thap Province, about land disputes in Vietnam. Hung happens to be a member of Viet Tan!
Hung expressed sympathy and introduced Thuy to his organization, which he claimed could help Thuy "obtain justice."
In September 2009, Hung summoned Thuy to Thailand to attend a subversive training course, suggesting that she use religion as an excuse to make the trip. She in turn asked Khai, a pastor in Chuong Bo Church in Binh Thanh District of Ho Chi Minh City to accompany her on the trip.
During interrogation Thuy identified Truong Tan Lac and Nguyen Trong Viet as lecturers of the course. Thuy and Khai signed up for the organization at the end of the course.
Thuy proved a keen member, so by April last year, she was summoned to attend another course in Cambodia with Tinh from Can Tho and another person named Tin from Da Nang. Tinh also ended up joining Viet Tan.
Through Thuy, Khai became acquainted with two farmers Pham Van Thong and Nguyen Thanh Tam from Ben Tre, where Khai had gone several times to introduce Viet Tan, under  the pretext of missionary work. Thong and Tam too became members of the organization.
In April, Thuy met Khai at a drinks shop belonging to Pham Thi Hoa in HCMC to discuss sending more people to Thailand. They managed to persuade Hoa to join the group.
Later that month, they inducted another member from HCMC, Nguyen Chi Thanh. The new members Hoa, Thanh, Thong and Tam were all sent to Thailand for a subversive training course.