The amount of pollution that Vedan (Vietnam) Enterprise Corp. Ltd. contributed to the Thi Vai River in the southern province of Dong Nai accounted for just 65 percent of the total damage to the area, a company representative said March 16.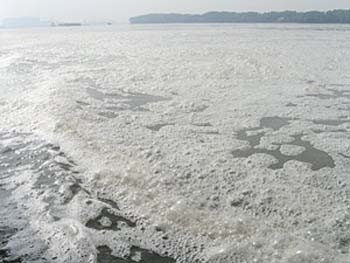 A section of the polluted Thi Vai River in Dong Nai Province. MSG maker Vedan Vietnam has continually denied responsibility for causing all of the pollution. (Photo: SGGP)
Vedan's researchers had analyzed data and come up with the figure, the representative said.
Meanwhile, the Institute of Environment and Resources under Vietnam National University-HCMC reported that the Taiwanese-invested company more likely caused around 90 percent of the pollution, which stretched 10 kilometers along the Thi Vai River Valley.
The institute also said that several other areas have been negatively impacted by the water pollution including HCMC, Dong Nai and Ba Ria-Vung Tau provinces.
After having its percentage-of-damage figure refuted by the institute, Vedan proposed to take the mean of the institute's projected figure and its own, to come up with a new figure of 77 percent.
This number would then be used to determine the amount of compensation owed by Vedan to residents affected by the pollution.
However, the institute has refused to accept the proposal.
Nguyen Van Phuoc, head of the institute, said that the figure announced by Vedan was unsubstantiated.
The institute has now transferred the issue to the Vietnam Environment Administration to make a final decision.