Two men were arrested by police in Ward 24 of Binh Thanh District in Ho Chi Minh City for impersonating as reporters of Vietnam Television (VTV) and trying to fraud the Xuan Lan 727 Chemical Cosmetics Company.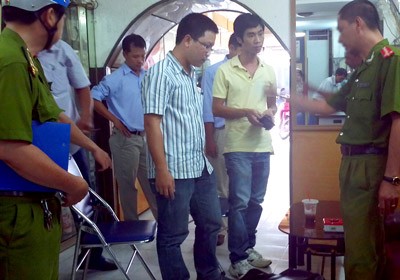 The two men impersonating as reporters (striped blue shirt and yellow T-shirt)
According to a representative of the Cosmetics Company, last week a woman going by the name Thu Uyen called them and proposed to conduct an interview and film coverage of a report related to a case in which the market management division was in embroiled in a controversial case.
The woman said that the coverage would be broadcast on VTV1 for a fee of VND32 million (US$1,524) and that that this would be wise for the company to cooperate.
The Xuan Lan Cosmetics Company then contacted the VTV office in HCMC to confirm the coverage and were told that the television station did not have any schedule for interview for the company. The company then reported the matter to the police department in Ward 24 in Binh Thanh District.
Later when the two men, namely, Hong Ban and Phan Thanh Tuyen arrived at the company premises to do the coverage, they were arrested by waiting policemen. The woman calling herself Thu Uyen did not show up with the two men.
Ban and Tuyen were unable to present any documents stating they were reporters of VTV.
Senior staff from VTV1 issued in writing a confirmation stating no connection with the above persons and of their authority to report or extract a fee for TV coverage.
According to the police, Hong Ban is a staff member of the Audiovisual and Charitable Television Center at 201 Nguyen Thi Minh Khai Street in HCMC, and Phan Thanh Tuyen is director of the Nam Viet Media Company in Go Vap District.