Twenty-three people are to be prosecuted for corruption in a national scheme to computerize the State administrative system, Project 112, the People's Supreme Procuracy said recently.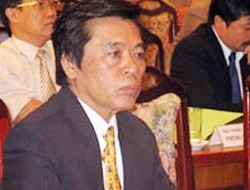 Vu Dinh Thuan
Vu Dinh Thuan, former deputy head of the Government Office and head of the project 112, Luong Cao Son former deputy director of Government Office's IT Center and executive secretary of the project, and Nguyen Cat Ho former head of the training team of the project have been charged with allegedly "abusing their position and powers while executing duties."

The others have been accused of "abusing position and power while executing duties" and "taking advantage of their relationship with people having high positions and power in society to seek profits."

According to the People's Supreme Procuracy's indictment to the Hanoi People's Court, between 2003 and 2006, based on Luong Cao Son and Nguyen Cat Ho's proposals, Vu Dinh Thuan signed 129 no-bid contracts to have textbooks and materials printed, establish the integrated database center and organize training courses.

This led to a loss of more than VND4.6 billion (US$260,000) to the state budget.

As an alleged accomplice, Nguyen Thuy Ha, former general director of ISA Information Technology, was said to have sold Microsoft software to Project 112 at excess prices to steal VND2.8 billion.

A number of civil servants and contractors have also been indicted for corruption and graft, principally by illegally profiting from costs higher than they should have been under open bidding.

The People's Supreme Court has said it will force those who are found guilty to return any money they illegally earned.

The People's Supreme Court has authorized the Hanoi People's Committee to work as a public prosecutor at the upcoming court of first instance.

Launched in 2002, the VND26 billion ($1.5 billion) project was part of a plan to computerize State administration between 2001 and 2005.

From the beginning, the public and IT experts raised concerns about the project's feasibility.

In 2006, the HCM City Department of Post and Telecommunications informed the Government about clear problems concerning the program.

It said the project was wasteful and causing losses to the State budget.

The project was cancelled by Prime Minister Nguyen Tan Dung in April 2007.