On September 6, the People's Court in Ho Chi Minh City held a preliminary hearing of a case concerning an attempt to bribe in order to retrieve an impounded motorbike from the traffic police in Binh Thanh District.
Six people were involved in the bribery case including journalist Hoang Khuong from Tuoi Tre newspaper, who was charged for bribing a traffic police team in Binh Thanh District in HCMC in June 2011.
The five others included Huynh Minh Duc, a former traffic police officer in the district; Ton That Hoa, director of Duy Nguyen Private Enterprise; Tran Anh Tuan, vice director of Tan Hai Phong Company; Tran Minh Hoa, owner of the motorcycle that was impounded by the Binh Thanh police; and Nguyen Duc Dong Anh, Khuong's brother-in-law and a friend of Hoa's.
Duc and Ton That Hoa have been charged with taking bribes and brokering bribes respectively, while the others have been indicted for giving bribes.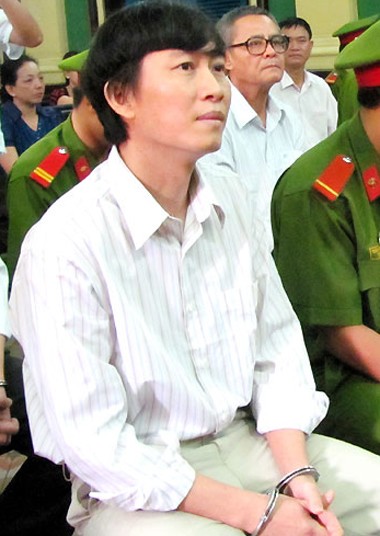 Journalist Hoang Khuong at the trial (Photo: VNExpress)
Yesterday, on the first day of the trial, the 37-year-old journalist reiterated that the indictment against him was unjust, since he did not commit an act of bribery, but only made mistakes while on duty.
Khuong, who has been detained since February 2, also claimed that he did not bribe anyone and that he only made the mistake of being involved in handing VND15 million (US$720) to Duc on behalf of traffic violator Tran Minh Hoa--an action that was only aimed at obtaining enough evidence for an exposé story on Duc's corruption.
"I wanted to uncover Duc's wrongdoings in returning the motorbike to Tran Minh Hoa. In fact, Duc had given the vehicle back to Hoa without issuing a report for penalty payment," Khuong said.
On Tuoi Tre publication issued on July 10, 2011 there was an article titled "illegal racing rescue", which reflects that Duc got money to return the motorbike licensed 51F6-2435, which was involved in traffic violation.
During the interrogation, the defendant Khuong said that his purpose was to search for material for his article, but by following the event he had made a mistake as he involved himself in the process of offering bribes.
The journalist said it is wrong for the prosecutor's office to conclude that his acts were for his personal interest and beyond the scope of necessary journalistic activities that serve coverage.
Khuong said, "I am aware that I was wrong for taking part in the handing over of the bribe. As a journalist, I should have acted as a witness instead, but due to my eagerness to uncover Duc's corruption, I engaged myself too deeply in the case."
Defendant Khuong also admitted he had not reported to the Editorial Board of Tuoi Tre about his giving money to policeman Duc, nor of taking down note of serial numbers of the bank notes and photographing the bills before giving the money to Duc.
Thus, Khuong had not been honest in his workings and abused his rightful conduct as a journalist.
The jury asked Khuong for proof of his involvement in the case or was it only for the purpose of collecting information for his exposé article. The journalist replied that before the articles exposing Duc's corruption were published, he had reported all details of the case to Tuoi Tre newspaper editorial board, except mentioning of his involvement in handing the bribe to Duc.
The City Procuracy argued that Khuong's activities violated the law, "as the defendant was a journalist with experience in his career, he should have known that giving money to someone to 'retrieve' an impounded motorbike is a violation of law."
Meanwhile, before the court could question Khuong, Duc admitted that he was wrong in taking the bribe from Ton That Hoa, in the presence of Khuong.
Lawyer Phan Trung Hoai, who is defending Khuong, requested that the court question the representative to clarify details relating to Khuong's activities in the bribery case.