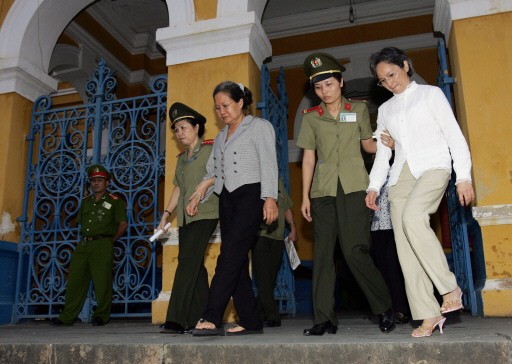 US nationals Huynh Bich Lien (R) and Thuong Nguyen Cuc (3L) are led out Ho Chi Minh City's People's Court after one-day trial for charges on terror, Nov. 10, 2006
After the trial of three US citizens and four Vietnamese accused of terrorism, leaders of Ho Chi Minh City's People's Court held a press conference to answer questions from media.
Answering question from Lao Dong Newspaper if the verdict is too light while terrorist defendants must be sentenced from 12 years, life imprisonment or death, HCM City court confirmed Vietnamese law permits panels of court to consider the points increasing or decreasing penalty.
The verdict lighter than the regulated penalty frame was considered carefully, the court leaders said
For the question from Nhan Dan why the defendants were sentenced to the same penalty while their roles were different from each other, the court said that the defendants had the different roles but different personal record and different crime committing conditions.
According to the court, some defendants had more important roles in the terrorism plot but have the penalty decreasing points. The panel considered carefully and returned appropriated verdict for each defendant.
Regarding the question of the Associate Press agency whether there was influence from Washington during the trial, the court confirmed the panel worked independently, it did not go under any pressure.
Ho Chi Minh City court on Friday sentenced three US citizens and four Vietnamese accused of terrorist activities to 15 months in jail.
The US citizens are deported immediately after they serve their sentences. It means they would be deported this December. The Vietnamese will be put under house arrest for three years after the imprisonment time.
The panel said that low awareness enticed them to Nguyen Huu Chanh's terrorist organization.
The prosecution claims the seven accused plotted in 2005 to take over the airwaves of the Voice of Vietnam and local radio stations to interfere with the electronic signals sent to aircraft and cause planes to collide.
Related Articles:
Three Americans, Four Vietnamese on Trial for Terror
Three Americans, Four Vietnamese Face Terrorism Charges