For the last 20 years a group of overseas Vietnamese have consistently been trying to incite fellow citizens back home to revolt against their country, while turning a deaf ear and ignoring the most excruciating process of restructuring the country from the shattered remains of the war.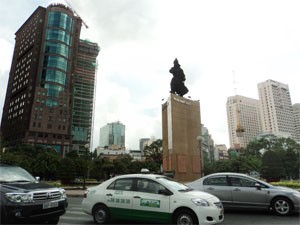 A corner of Ho Chi Minh City today. The subversive group Viet Tan has ignored Vietnam's reconstruction process after the war (Photo: Minh Tri)
The subversive terrorist organization Viet Tan (Vietnam Reform) has been using social networking sites and the internet to foster so called "non-violent" uprisings within Vietnam.
Under the pretext of protecting Truong Sa (Spratly) and Hoang Sa (Paracel) Islands, the organization has held demonstrations aimed to disrupt public life and create disharmony amongst citizens.
Fact is that up till now they have done nothing whatsoever for the soldiers posted to protect the islands.
Many people have questioned Viet Tan's motives, that if they care so much for justice and liberation, why they do not stir the sentiments of the Vietnamese people living in the US to pressurize the US government to compensate Vietnam's 'Agent Orange' victims who are grieving under dire conditions every single day of their lives.
Viet Tan was established in 1982 by Hoang Co Minh, a former senior colonel in the US-backed government in South Vietnam before 1975.
Minh and a group of others created a group called Vietnam National Unification and Liberation Front in South California in 1980. In 1982 the group was renamed Vietnam Revolution Reformation Party or in short Viet Tan (Vietnam Reform).
 
Between 1982 and 1989 the group sent armed groups into Vietnam to conduct terrorist activities.
At the beginning, many rebel groups brought in weapons and explosives into Vietnam via Laos and Cambodia. They conducted many violent terrorist activities aimed at overthrowing the local governments of several regions.
Most of their plots were foiled by border patrols and the conspirators were arrested by Vietnamese, Lao and Cambodian border soldiers.
After repeated failures, Minh personally led a force made up of the members he had left inside Vietnam but they too were defeated and suppressed at the Vietnam border.
Minh and several members were killed; many members were arrested and were placed behind bars in 1987 while many fled back to the US.
From 1989 to 2000, Viet Tan operated secretly and undercover through associate  groups like the Vietnam Freedom Federation or the Association of Overseas Vietnamese Experts. It continued to execute terrorist activities when it sent Vo Van Duc to bomb the Vietnamese Embassy in Bangkok.
During a meeting in Germany in September 2004, Viet Tan leaders decided to reveal their identity, come out in the open and make themselves known to the public.
Their congress in Germany in October 2006 decided that the organization must start to shift focus towards so-called "non-violent" uprisings, sending out provocative propaganda via various websites and social networking sites.
Taking Viet Tan aims and activities into consideration, Vietnamese agencies have listed the organization as a terrorist group.
Related story: