Binh Thanh District Police have discovered hundreds more books that allegedly violate copyright laws at a printing company that is already facing copyright charges.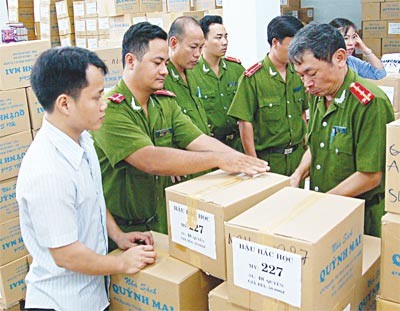 Polices seal off boxes of books allegedly violating copyright laws at Hoa Mai Printing Company in HCMC's Binh Thanh District. The company was already facing copyright charges at the time of the raid (Photo: SGGP)
The police March 3 inspected Hoa Mai Printing Company again after the Ho Chi Minh City Department of Information and Communication recently announced it would fine the company VND500 million(US$26,000) for violating of copyright laws over 35,000 alleged copies of books worth VND1.5 billion found by inspectors last year.
 
The company, which is owned by Luong Vinh Kim, was inspected for copyright violations last year when six foreign publishers reported Quynh Mai Bookstore, which is also owned by Kim, was selling illegal copies of hundreds of their books.
 
Tre Publishing House, a local publisher, had also asked Quynh Mai Bookstore to stop selling copies of two volumes of one of its published books.