Two murderers of Phu Nhuan District Party Committee's deputy secretary Dang Thu Hong last September were facing one death and one life imprison sentence by Ho Chi Minh City People's Supreme Procuracy yesterday.
For the second instance trial for Nguyen Trong Nhan, 31, and Luong Hoai Sang, 21, the People's Supreme Procuracy said there was no new evidences to change the original charge against them with murder and robbery.
In the verdict that was passed at the first instance trial, they both received a death sentence for murder. Besides, Nhan and Sang were given 8 years and 7 years imprisonment respectively for robbery.
The Hochiminh city law Court on April 2011 held the first instance trial, providing evidences that Nhan and Sang had committed a mass murder on September 20th , 2010 with careful preparation.
According to the indictment, Nhan heard his wife, Le Thu Hien telling that she was reprimanded by Mrs. Bui Ngo Thi My, who was her boss in the Section of Rural Management of Phu Nhuan district. Nhan intended to revenge for his wife.
Nhan then induced Luong Hoai Sang, who lived in Cu Chi district to come to Mrs. My's house. They overpowered My and her daughter Tran Thu Huong and tortured them , forcing them to show out where they kept the money and jewelry.
Previously, they beat her with a tennis racket, making her fall down to the floor. My and Huong were also hit and stabbed by dagger by the two men, but they fortunately survived the attack as they were rescued on time.
Meanwhile, Ms Hong, who by chance came to My's house at the time when My and Huong were assaulted by Nhan and Sang. Hong was then hit and stabbed 24 times to death by Nhan and Sang.
According to the court, the two young men showed their determination to kill not only Hong but also My and her daughter, Huong. The fact that My and Huong did not die are out of their plan.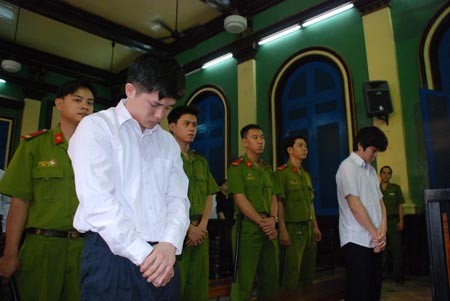 Nguyen Trong Nhan, 31, (L) and Luong Hoai Sang, 21 at the first instance trial
When the local police nearby heard the victims' screams and rushed to rescue them, Nhan threatened them saying he would kill anyone who approached him. He only surrendered when armed police showed up at the house, the court said.
Earlier, Nhan rejected the accusation that said he planned to kill My for the purposes of robbing her. Nhan said he just wanted to ask My not to sack his wife, Le Thu Hien. He said he only assaulted My after she refused to bid by his request.
However, the court refused his argument.
After taking all into account, the People's Supreme Procuracy argued that Nhan deliberately planed to kill My and rob her assets and suggested the People's Supreme Court of Appeal confirm the death sentence against Nhan. However, Sang, the accomplice in the case was proposed be commuted from a death sentence to a life imprisonment.
The last verdict is expected on July 4th.