Police in Ho Chi Minh City have prosecuted three men in connection with a murder that occurred last year as a result of a road rage incident.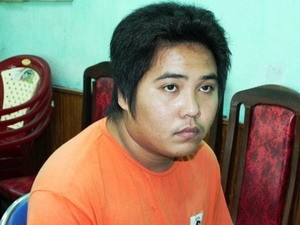 Nguyen Quoc Tan has been charged with murder
22 year old Nguyen Quoc Tan from district 7 was charged with murder, 30 year old Nguyen Van Ut also from district 7 was charged as accessory to murder and 28 year old Pham Hoang Dinh Hung for civil misconduct in a public place.
According to the police, on August 6 last year, Nguyen Quoc Tan was driving a motorbike with his friend, Nguyen Van Ut. While turning the corner of Cong Quynh Street in District 1, the pair nearly collided with three other men on two motorbikes.
Tan lost his temper. The three men, namely Hung, Duc and Dung, pulled out their belts, helmets and began to attack Tan. In the scuffle, Tan produced a knife and stabbed his attackers.
Duc died from five stab wounds, Dung died on the way to the hospital while Hung survived his three wounds.
In his testimony, Tan said he had bought the knife that same day, along with some fruit, to share with his drinking buddies in District 7. He met Ut on his way back from the fruit shop and the latter asked for a lift to the Children's Hospital in District 1 where he was planning to visit his child.