Even as police are investigating the case of an 18-year-old babysitter for maltreatment of a baby who died, public indignation of the case continues to grow across social networks.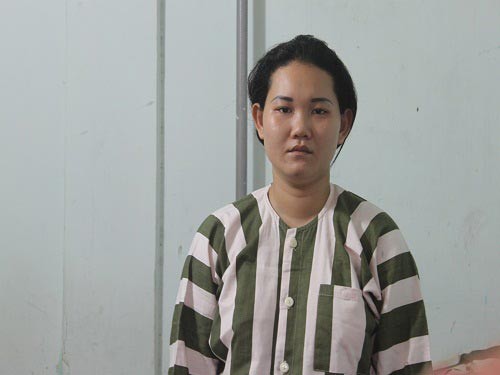 Cruel babysitter Ho Ngoc Nho is detained in police station
Two days have passed by, and the grief-stricken parents Do Trong Duc, 27, from the central province of Binh Dinh, and Vo Thi Huyen, 24, from the central province of Nghe An, are still shocked by the wicked acts of their babysitter who tortured their baby to death.
Ho Ngoc Nho from the Can Tho City in Mekong delta stays at home to take care of her own child. She accepts babysitting jobs of some local kids at her rented room in Linh Trung Ward.
Huyen asked Nho to babysit her baby for VND1.5 million (US$71) a month.
As usual, Huyen sent her 18-month-old child named Do Nhat Long to babysitter Ho Ngoc Nho in Linh Trung Ward in Thu Duc District of Ho Chi Minh City on November 16.
At 9 AM, Duc received a call from Nho who informed him that his baby had fallen down and asked him to take the baby boy to hospital. However, medical workers at the hospital verified that the baby had died before hospitalization.
At the police station, Nho admitted that after receiving Long from his mother, she spoon fed the baby his breakfast, but baby Long threw tantrums while being fed. Nho angrily picked up the baby by his legs and turned him upside down in an attempt to stop him from crying. While doing so, she accidentally dropped him on the ground.
In pain, Long sobbed even louder. Nho then stamped her foot forcefully on the baby's chest and abdomen and left him in the restroom. After some 20 minutes, she returned and saw that the baby was lying motionless.
The baby's parents said that as they have to work from early morning to 8pm and were compelled to send him at Nho's house instead of a kindergarten which closes at 5pm.
The case is now under police investigation.