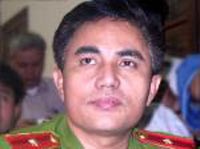 Major-General Cao Ngoc Oanh
Major-General Cao Ngoc Oanh, the former Chief of the General Department of Police's investigative body suspected of taking bribes to cover up a multi-million dollar crime, has been vindicated by the National Investigation Bureau.
The bureau concluded that Mr. Oanh had not accepted a US$30,000 bribe even though his friend, Ton Anh Dung, had offered him the money three times.
The money was being offered to cover up the crimes of Bui Tien Dung, former Director of the Transport Ministry's Project Management Unit 18 (PMU18), who had been arrested for illegal gambling. Investigators later discovered that millions of dollars embezzled from the PMU18 had been used to bet on football.
Once the investigations into Mr.Dung's gambling activities had been completed and a possible cover-up attempt involving Mr. Oanh had come to light, the Prime Minister called on investigators to deal with the matter in court as soon as possible.
Further investigations were required however, into the actions of two high-ranking police officers before Mr. Oanh's hearing could take place. At the time, the Prime Minister had said that Mr. Oanh would be punished according to the law if found guilty of wrongdoing.

Prior to the scandal, Mr. Oanh had been recommended to take over as Deputy Minister of Public Security, but the recommendation was withdrawn after the bribery scandal came to light and he was transferred from his post to a desk job.