Deputy Director Do Kim Tuyen of the Crime Police Department announced yesterday that police in the northern province of Bac Giang had identified a suspect in the gruesome murder of a jewellery shop owner last week, but as yet failed to arrest him.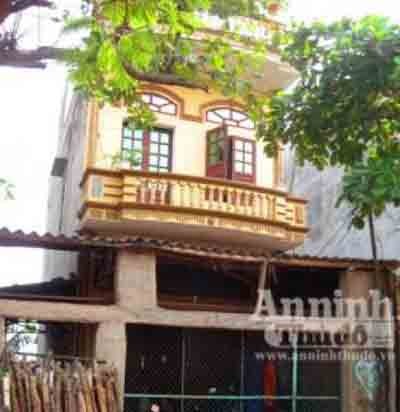 The house of Luyen
The Bac Giang Province police confirmed yesterday the suspect as Le Van Luyen, born 1993 in Thanh Lam Ward of Luc Nam District. Ward Thanh Lam is located close to the jewellery shop. Police reached the site to arrest Luyen, but he fled before then.
 
Police searched his house and found a bag of jewellery buried in the pig-breeding area of his farm. The bag contained many gold necklaces and pendants. Police ascertained they belonged to the Ngoc Bich Jewellery shop.
Luyen's parents, Le Van Mien and Truong Thi Thom, were unable to explain why the jewellery was buried in their house. Luyen is the eldest son of the family of three children. His parents sold pork in the local market.
Luyen had dropped out of school a few years ago and worked as a construction worker in Hanoi but he returned later to Bac Giang Province.
Early on the morning of August 24, Trinh Van Ngoc, the 37-year-old owner of the jewellery shop, his wife Dinh Thi Chin and 19 month old daughter were found brutally murdered inside the Ngoc Bich Jewellery Shop at 45 San Street, Phuong Son Commune in Luc Nam District. Another daughter, 9-year-old Trinh Phuong Thao, was found with her right arm chopped off by the attacker.
The Ministry of Public Security coordinated with the local police in the investigation.
Related article:
Gruesome murder of jewellery store owner