Six members of a drug trafficking ring, including five Nigerian men, were arrested by the Hanoi police yesterday. They were caught illegally transporting more than two kilos of heroin, which were hidden in soles of shoes and sandals, buttons and book covers.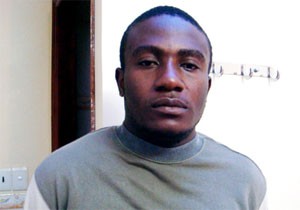 B.S. John (Photo: VN Express)
The Hanoi Investigative Police Bureau against Drug Traffickers (C17B) raided two rooms in the Gia Phu Hotel in Binh Tan District and arrested three Nigerians, B.S. John, 28, D. Ben, 28, and M. Oguasu, 27, and a Vietnamese, Pham Thi Thanh Trang, 31.

They were all charged with illegally tranporting and trading in heroin.

The police seized more than 600 grams of heroin which were concealed in the soles of sandals.

Later the same day., the police broke into a boarding room next to a shoe and sandal manufacturing workshop in Binh Chanh District and arrested two other Nigerians, Stanly, 33 and Mathias, 34.

The police seized a further 400 grams of heroin which were hidden in the soles of two pairs of shoes.

The police then searched the house of a young woman who sold SIM cards in Go Vap District and seized more than one kilo of heroin.

The young woman is reportedly a partner of one of the men.

The police said preliminary investigations revealed that B.S. John is the leader of the ring, which trafficks heroin from India to Pakistan and then to Ho Chi Minh City, where drugs would be transported to China via Hanoi.
Heoin concealed inside a book cover (Photo" VN Express)
John lives with Thanh Trang and alledgedly asked her to recruit Vietnamese young women to the smuggling ring.

Police said Thanh Trang herself had been to India three times to transport heroin from there into Vietnam. Trang was said to have been paid between US$500 and $1,500 for each shipment.

Aside from hiding heroin in soles of sandals and shoes, buttons and covers of books, the traffickers are reported to have also wrapped drugs in carbon papers to prevent them from being detected by scanning devices in airports.

The investigation continues.