Yesterday, a draft law submitted to the National Assembly proposed a  personal income tax exemption, based on family conditions, for the amount of VND4 million (US$205) per month, Nguyen Duc Kien, NA vice chairman, stated at the NA Standing Committee's meeting.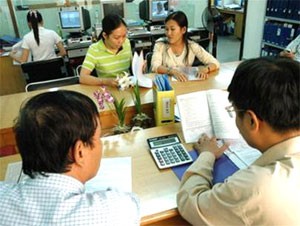 Paying personal income tax at the Ho Chi Minh City Taxation Department
The PIT exemption is intended to tax individuals on their disposable income, after living expenses have been deducted.

Those expenses are estimated at VND 4 million per tax payer, and VND 1.6 million per dependent.  
 
Phung Quoc Hien, chairman of the NA's Financial and Budgetary Committee, said the suggested tax exemption of VND4 million per month per taxpayer and VND1.6 million per dependent is calculated based on the country's GDP, the policy on salary improvement, and residents' predicted income in 2009.  
 
The proposed tax exemption was suggested by citizens through a survey, yet there is still disagreement among committee members.  
 
Dang Ngoc Tung, chairman of The Vietnam General Confederation of Labor, said an exemption of VND5 million per taxpayer and VND2 million per dependent would be more reasonable.
 
In contrast, Finance Minister Vu Van Ninh said the exemption of VND4 million is already very high, especially when compared to other countries.
 
For example, China currently has a tax exemption equal to 63.5 percent of its GDP, Malaysia 40 percent, Thailand 59 percent, and Indonesia 77 percent.  
 
The proposed exemption in Viet Nam would equal 450 percent of the overall GDP per capita, a rate significantly higher than its neighboring countries, he added.
 
NA vice chairman Kien said naturally the exemption would be provided on a monthly basis. 
 
He stated that such a high tax reduction is necessary to help tax-payers adjust to the system, a feat which has been made more difficult by the current economic conditions of the country.