Police have arrested one more senior official of the debt-laden shipbuilding giant Vinashin amidst an investigation into the state-owned company, for deliberately violating State economic management provisions with serious consequences.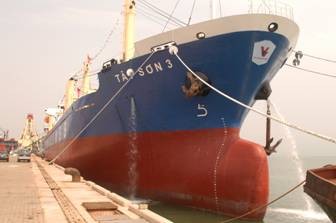 Tay Son 3, a 12,500-ton freighter built by Vinashin.
The decision to arrest To Nghiem, chairman of Cai Lan Shipbuilding Industry Company, a subsidiary of Vinashin, was based on findings that through other people he colluded with a contractor to embezzle billions of Vietnam dong.
He was authorized by Vinashin to sign a contract with contractor Jacobsen in a project on construction of the Cai Lan diesel oil power plant.
In the contract, equipment supplied to the plant is stated to be new but in reality the contractor supplied used one.
The plant was put into operation in April 2007, but it was unable to operate continuously due to technical breakdowns that cause fuel leaks.
Finally, the plant had to pause operation for a fix.
Over two years of operation, the company incurred losses worth over VND62 billion and insolvent debts of up to VND107 billion and US$27 million.
To put the plant back into operation according to the initial design, the company had to invest additional EUR13 million to replace and upgrade the existing equipment.
During the period of developing the project, Mr. Nghiem didn't carry out works on the power distribution station.
Instead, he and former Vinashin president and chairman Pham Thanh Binh, who is also in custody, developed another project to connect the plant to the national power grid and provide power to the Cai Lan steel plate hot rolling plant.
The project, which would cost VND187 billion, was implemented by Jacobsen.
So far, six Vinashin officials are in custody as the Government extended its investigation into financial difficulties at the company.
The investigation began in July as Vinashin was about to go under with debts amounting to US$4.5 billion.
The government has pledged to restructure the shipbuilder, reverting to a focus on its core areas of operation.