The People's Court in Thuan An District on January 7 sentenced a baby-sister from the Thuan Giao Commune, in the Binh Duong Province, for two years imprisonment for child abuse.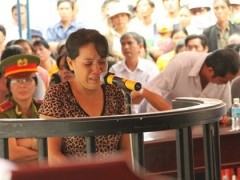 Tran Thi Phung at the trial (Photo: Tuoi Tre)
Tran Thi Phung, 53, was sentenced to two years imprisonment for maltreating a three-year old girl, whom she was paid to take care. She was also ordered to pay compensation to her victim, Ho Thi Thuy Ngan, a figure of VND5 million (USD250).
In the court, nanny Phung admitted she had been illegally running a day-care centre in the commune since 2003, and that she had maltreated Ngan while caring for the child.
She said she washed the child every three to four days – a process that involved laying the toddler out on the floor, then pressing down on her with her foot, in order to control the child's wriggling, and finally, pouring water on her face.
She was arrested two months ago, after a video clip on the internet showed Phung performing the illegal and inhumane acts against Ngan.
The police must investigate and punish any cruel and inhumane acts that are perpetrated on small children, and especially by those who are not registered to care for children, said the court's jury.