The Ministry of Labour, Invalids and Social Affairs has issued a new decree specifying 38 jobs that employers are not allowed to hire women for.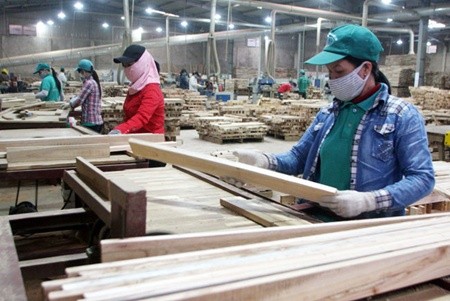 Women join making wooden planks in Hoang Duc Linh Company Ltd in central Quang Tri Province. Employers in Viet Nam will be banned from hiring women work in health-threatening jobs, listed in a newly-released decree from the labour ministry. — VNA/VNS Photo Tran Viet
The list includes various professions ranging from metal processing, seafaring (except to provide healthcare and food), carrying goods of over 50kg and work that requires them to come into contact with human corpses.
Employers are also banned from hiring women to explore dangerous mountainous areas, work as professional divers, do dredging or mining work or work regularly on oil rigs.
In addition, the decree includes another list specifying 39 other jobs from which employers are not allowed to employ pregnant women or those with babies less than 12 months old to protect the wellbeing of the women and their children.
The list includes work that involves exposure to toxic chemicals, radioactive substances or work that requires heavy physical exertion such as operating large machinery, carrying goods of over 12kg or working in an uncomfortable environment – such as extreme temperatures or confined narrow spaces.
In response to concerns over the impact of the new regulation on the livelihoods of those affected, Bui Duc Nhuong, deputy director of the Labour Safety Department under the labour ministry, said it was nevertheless good for women, and protected them from health-threatening jobs.
A labour policy expert working for the ministry said that although the number of women currently employed in the professions highlighted by the decree was not very high, it would be a challenge for authorities to control in disadvantaged and remote areas.
The ministry has ordered employers to review the list and make suitable arrangements for those affected to find more suitable jobs.
Employers have also been instructed to submit their reports on the implementation of the decree every six months.
Local labour departments have been told to step up inspections and punish employers who break the new regulations.
The decree will take effect from December 15.