The People's Court in the Mekong Delta province of Long An on April 5 issued the death sentence on Luc Gia Khanh for producing, trafficking and storing about 100 kilograms of drugs.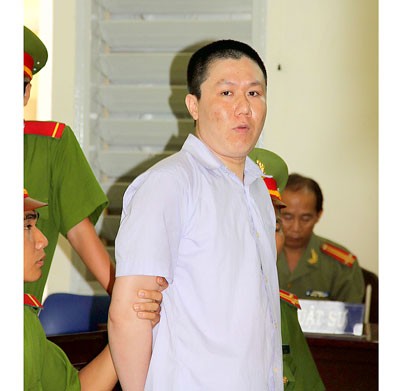 Luc Gia Khanh at the court on April 5 ( Photo: SGGP)
Three of his accomplices were also sentenced to life imprisonment, while eight others received sentences from one to 20 years in prison. 

The Long An Province People's Court sentenced Luc Gia Quy, Nguyen Minh Tam and Nguyen Ngoc Lam  to life imprisonment for making drugs illegally while Vay A Thi, Luu Anh Vien and Dao Cam Hung were given 20 years in prison for dealing in drugs.

The remaining accomplices received 18 months to 18 years in prison for manufacturing and selling drugs, and harbouring criminals.

According to the indictment, the investigation police in Long An Province on May 6, 2012 arrested Dao Cam Hung when he was caught red-handed transporting 113.3 grams of drugs from Luc Kien's house in Binh Loi Commune in Duc Hoa District of Long An Province. After raiding Kien's house, police discovered 13,582 grams of drug-making chemicals.

All the criminals confessed that from July, 2011 to April, 2012 they had helped manufacture and trade in 100 kilograms of drugs with Luc Gia Khanh as their group leader.

Khanh manipulated 16 of his accomplices including his relatives like parents, brothers, sisters, and wives.