Three out of four individuals convicted in January of "acting to overthrow the people's Government" had their cases transferred March 15 to the Appellate Court of the Supreme People's Court in Ho Chi Minh City.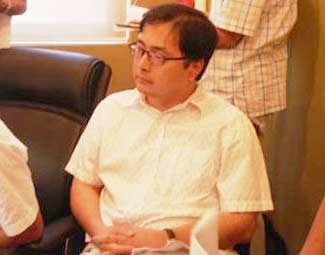 (File) Le Cong Dinh arrested at his home in HCM City in June 2009 (Photo: VOV)
The appeals for commutation were made earlier by former lawyer Le Cong Dinh, 42; Le Thang Long, 43; and Tran Huynh Duy Thuc, 44; after being convicted of acting against the State.
In January at the first instance hearing held in HCMC, Dinh and Long were each sentenced to five years in prison while Thuc was given 16 years.
The only defendant who did not appeal is Nguyen Tien Trung, 27, who was sentenced to 7 years in prison.
Under the indictment read at the first instance court, the four men were accused of colluding with overseas hostile forces led by overseas Vietnamese to set up reactionary political organizations at home and abroad, with an aim to overthrow the Vietnamese Government through "non-violent" actions.
According to the indictment, they wrote, complied, and disseminated numerous articles, materials and documents containing arguments that are against the State of the Socialist Republic of Vietnam, oppose the Party's leadership, and distort the Government's operating policies.