Police in the north-central province of Ha Tinh were successful in tracking down and detaining a large consignment of wild animals from being illegally transported out of the province at 1.30 am today, September 4, on Highway 8A in Duc Lam Commune of Duc Tho District.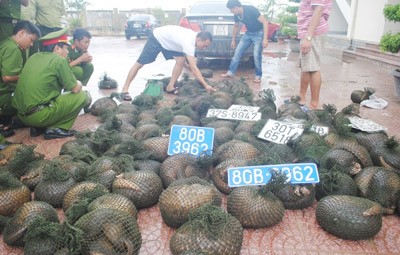 119 pangolins, fake number plates and the black Camry car
The illegal consignment revealed 119 pangolins and four tigers, which were in cages, with the biggest tiger weighing 11 kilograms and the three others weighing 3.5 kilograms each.
After receiving a tip off from the public, the provincial police dispatched scouts to lie in wait along the highway that runs from Tay Son Town in Ha Tinh Province to Vinh City in the neighboring province of Nghe An.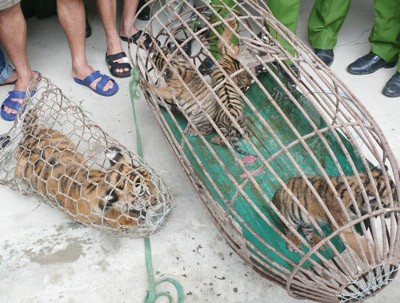 Four tiger cubs that were detained
By 1.30am, a black Camry car appeared from the direction of Huong Son District and moving to Duc Tho District of Ha Tinh Province. Police in Duc Lam Commune swooped down on those driving the car and transporting the illegal consignment.

Police also uncovered several fake number plates of Hanoi, Thanh Hoa and Nghe An Provinces, which the transporters used for confusing authorities.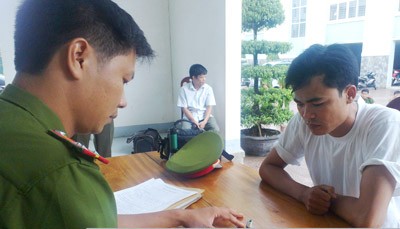 A policeman writes out a report
The two people transporting the consignment were 36-year-old Ho Sy Hanh and 33-year-old Bui Van Muoi from Nghe An Province, who failed to present any legal documents. They claimed they had been hired to transport all the above wild animals to Hanoi.
The entire haul of wild animals has been taken over by the Investigation Agency under the Ha Tinh Police Department for necessary procedures before being transferred to the Department of Forest Management in the province.

This is the largest consignment ever of tigers and pangolins that has been nabbed in Ha Tinh Province.