A 41 year old man was sentenced to 18 years in jail for selling counterfeit money, on July 6 by the municipal People's Court.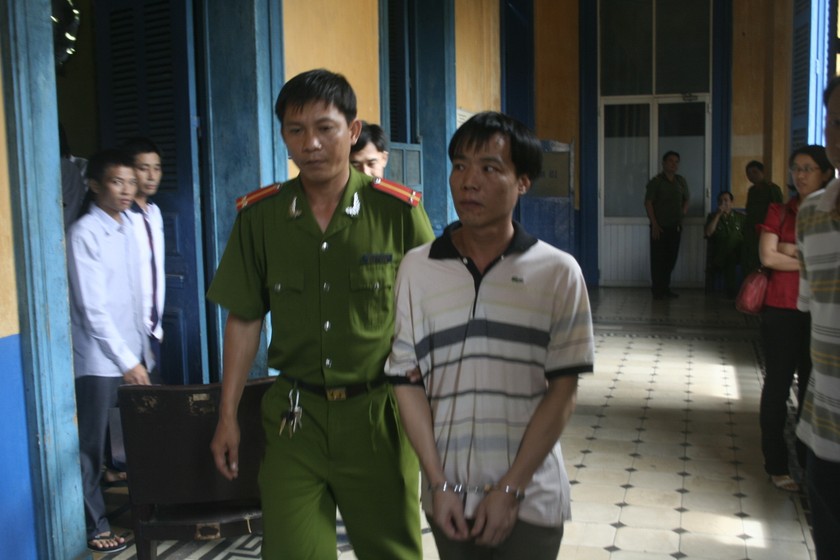 Dang Van Sau being led by police from court (Photo: A. Chan)
Dang Van Sau, from the Northern Province of Vinh Phuc and with a temporary address in District 12 in Ho Chi Minh City, received an 18 year prison sentence when he was caught selling counterfeit currency to many people.
Police in the southern province of Dong Thap were informed in January 2010 about a man who used high denomination banknotes like VND100,000, VND200,000 and VND500,000 (US$4.8-24) to pay for low value items like cigarettes, shampoo and bottled drinking water.
People suspected that the currency could be counterfeit with the aim of converting it into smaller authentic banknotes.
Armed with substantial information, police arrested Ta Van Tu, 25 and Nguyen Thi Thang, 36 and searched their handbags which were filled with fake notes of VND500, 000 denominations, along with commodities like monosodium glutamate, cigarettes and razor blades.
Investigating Police in Dong Thap province arrested members of the counterfeit money ring led by Nguyen Van Tam. Tam confessed he and his associates had circulated VND340 million counterfeit banknotes in the market. They used these fake notes to pay for goods of low value, such as cigarettes, shampoo and bottled drinking water and converted the currency.
Sau admitted to selling only VND110 million to Nguyen Van Tam and he appealed against a decision by the Dong Thap Province People's Court. However, municipal People's Court rejected the appeal and upheld the first-instance verdict announced by the Dong Thap Province People's Court for "circulating counterfeit money."
Other members of the ring were also sentenced to prison terms. Nguyen Van Tam got 18 years'; Kim Van 16 years; Nguyen Thi Thang 14 years; Nguyen Duc Tinh 13 years; Vu Ngoc Hung 12 years; Ta Van Tu 11 years and Vu Kieu Hau 10 years.