Police busted an illegal marriage bureau in Ho Chi Minh City on July 30 and arrested the would-be bridegroom from South Korea, a Vietnamese middleman.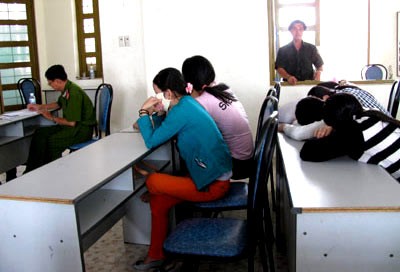 Some of the 33 young women who had been lined up for a Korean man to choose a bride are seen in this photo at a HCMC police station after the illegal marriage ring was busted on July 30 (Photo: Vietnam Net)
Nguyen Anh Tuan, 34, from the central province of Quang Ngai rented a house on 23 Street in the city's District 6 along with Korean broker Won Huyn Jae, 43, and commissioned Nguyen Ba Hoa, 45, of Tien Giang Province to find prospective brides.
They were meant for Um Tae Jeong, 35, who had paid Jae US$3,000 to come to Vietnam to find him a wife.

If Jeong had married one of the women, Tuan would have received US$1,000, Hoa VND400,000, and Jae $1,500.
Jae has visited the country 15 times since 2005 and found brides for 10 Korean men.
According to the police, there were 33 women lining up for the Korean would-be bridegroom at the house when the police came.