Police in Hai Ba Trung District in Hanoi decided Nov 16 to prosecute those responsible for the gas explosion that collapsed a two-storey house in Hanoi, killing two children and injuring two others on Nov 3.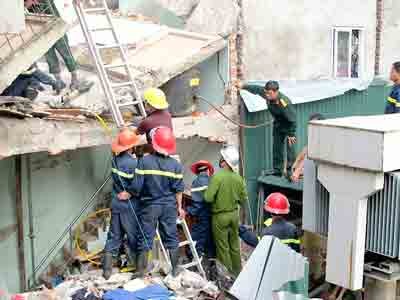 Rescue workers trying to save children from the collapsed house (Photo: SGGP)
The Police however will continue to investigate the case to find out the actual reason for the gas cylinder explosion that collapsed the house.
At the time of the explosion, Tran Nhat Minh, 43, his wife Nguyen Thu Ngan, 37 and their two children Tran Ngoc Tam, 14 and Tran Duy Anh, 6 were fast asleep inside their two-storey house in Alley 22 on Ta Quang Buu Street in Hai Ba Trung District of Hanoi and unable to escape.
The two children sleeping on the second floor were buried under the debris and died instantly. Their father Tran Nhat Minh and mother Nguyen Thu Ngan suffered serious burns and were rushed to Saint Paul Hospital.
Related article:
Gas cylinder explosion in Hanoi kills two children